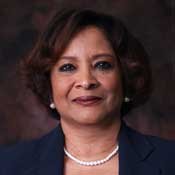 Peggy Hobson-Calhoun is quick to talk about her accomplishments over the last 19 years as a Hinds County supervisor. She began her term as the county's first elected female supervisor in 1992, and since then has made the county's infrastructure and economy her top priorities. The Democratic candidate frequently stands her ground and votes less predictably than other board members.
The board has faced criticism about their handling of the county's budget in recent years. In 2009, the board halted plans to build a regional county jail after spending $400,000 to purchase the land and design the facility. In 2007, the board purchased the Mississippi Valley Title Building for $2.5 million for additional office space, using funds from a $30 million bond issue.
Last year, the county was forced to furlough employees to prevent layoffs. Calhoun said the proposed budget for the fiscal year beginning Oct. 1 does not require additional county employee furloughs.
Hobson-Calhoun is a graduate of Jackson State University with a bachelor's degree in education. In 1995, she retired from Bellsouth Corp. after spending 24 years in various managerial positions. She is married to state Rep. Credell Calhoun, D-Jackson. The incumbent faces three Democratic challengers in the Aug. 2 primary.
Why are you running for re-election?
I feel that I have done a very good job here in Hinds County. I want to continue with positive things I have initiated in Hinds County, and I want to continue to support strong crime-fighting initiatives. I am a proponent of economic development for the creation of jobs, paying decent salaries and wages.
Can you elaborate on the positive things you have done?
Some of my biggest accomplishments include developing our storm-water management program to control discharge of water pollutants in our water streams. As a matter of fact, we would have been penalized if we had not implemented a storm- water management program. ... Likewise, I was responsible for Hinds County's comprehensive plan. In that plan, we have established a policy that will help us plan for future needs.
What is your role in the Byram-Clinton corridor?
I am spearheading that project. This project will consist of retail, residential and business development. It is an 18-mile corridor that starts at Interstate 55 South at Siwell Road ... all the way to Bolton interchange. This corridor is the largest, most comprehensive plan ever in the board of supervisors and, probably, Hinds County. The development of the corridor will help create thousands of jobs—high-tech jobs, jobs for attorneys, accountants and small businesses.
What is the timeline on the project?
We have no timeline. Every step of the way we have to get that approval of state aid. Even though we want to push and rush, state aid has to work with all the counties.
What is the total project price tag?
It will cost approximately $100 million to complete construction. We have received $37 million in earmarks. (Sen.) Thad Cochran and (Rep.) Bennie Thompson have been instrumental in helping us secure funds.
We also have plans to take the $30 million we have on hand and make it work for the entire corridor. Also, instead of building a parking garage, we converted the funds so that we can utilize the $14 million to construct a corridor.
What happened to the downtown parking garage?
We had issued bonds to build a parking garage and to purchase the Title Building and build a joint work center. The board made a determination that the best use of those bond funds would be to apply them to the construction of the corridor because the corridor is going to help produce revenue for the county.
So by constructing infrastructure and new roads, you are hoping that businesses will want to locate there?
The Hinds County Board of Supervisors will be responsible for the infrastructure. We will have developers come in and assist us with the actual businesses that will want to locate.
How confident are you that businesses will want to come in?
We don't have any written commitment, but we have a lot of developers who have approached us with interest.
We have our work cut out for us in recruiting big boxes to locate there. But Hinds County's problem has been that we haven't had the infrastructure. Also, the corridor will help open up access to the John Bell Williams Airport (in Bolton, owned by Hinds Community College). When that access opens up, there will be a lot of economic development.
Hinds County Sheriff Malcolm McMillin criticized the board recently for spending money on construction of a regional jail that never happened. How do you respond to that?
The jail was needed to house additional criminals. But we had no choice in the matter. When half of the funding source left, the board of supervisors could not pick up that tab. The Mississippi Department of Corrections was going to assist us and pay X amount of dollars per inmate per day. That cost would have helped the board defray the cost of constructing the regional jail. w
Does the county still own the land?
Yes. We have dedicated some of the acreage to construct a communications center for the sheriff's department. We have dedicated some of it for indigent graves.
Is there anything aside from the jail the county could have cutback on to prevent furloughs this year?
We have had a shortfall in tax collections countywide. For the past few years, we have had a very lean budget and we have been prudent financial managers. ... If we don't have adequate funds coming in, then we have to make it up somewhere. But, let me just say this, my board members have done some foolish spending.
What kind of foolish spending?
The purchase of the Title Building.
Is it being used for office space?
No. And I voted against that purchase. It needs a lot of repairs and renovations.
But, let me explain the (Hinds County) funding situation. Because of shortfalls in revenue, we had to borrow funds. We borrowed against anticipated tax revenues coming in for the next year. Every penny we borrowed, we paid back. Yes, we did furlough employees—a day a month. The reason for that was to keep from laying off employees. A paycheck is better than no check.
The county is currently going through a branding process. What would your slogan be?
Locating to Hinds County is hindsight. H-I-N-D-S sight. (laughs). Hinds County is the center of the state's commerce, transportation, medical, banking, institutions of higher learning, vocation schools and telecommunications.
What separates you from your opponents?
I have 19 years of experience. I have produced results. My record and my votes speak for themselves.