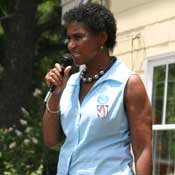 Take a visit to Vikki Mumford's campaign website for Hinds County Circuit Clerk, and you get the feeling that she isn't messing around. To demonstrate her tech-savvy abilities, Mumford's website includes video, audio endorsements and a side-by-side comparison of her and her opponent, Barbara Dunn. Mumford, 59, wants to modernize the circuit clerk's office and makes no apologies about pointing out her opponent's weaknesses.
Since 2008 Mumford has worked as the secretary for the Jackson Public Schools Board of Trustees where she is responsible for compiling the school board meeting agenda, minutes and keeping track of documents pertaining to the school board. Mumford earned her bachelor's degree in business education from Alcorn State University in 1973 and her master's in public policy from Jackson State University in 1998. She started her career working as a court administrator for federal judge Henry Wingate in 1985. She has also worked as a manager of the U.S. District Court in Hattiesburg, and as a deputy clerk for the U.S. District Court in Mississippi's Northern District. She ran for the circuit clerk's office in 2007 and is the only Democrat to face Dunn; Antonio Porter recently dropped out of the race. She is married to Alexander Mumford.
Why do you want to be circuit clerk?
I am qualified. I want to use my experience and expertise in an area of my interest. I have a strong interest in serving people, and I enjoy the legal environment. In the right set of opportunities, I would have been a lawyer, but since that didn't happen for me, I wanted to do the next best thing. I like being around the law, and I like seeing justice served.
You have challenged Barbara Dunn about the fines she received from the Mississippi Supreme Court for clerical errors. What would you do to prevent clerical errors?
I will organize the office and have centralized technology that can be shared between the county offices and between the circuit clerks, especially chancery and circuit court. They should have the same source of information. ... There will be no such thing as walking down the hall and looking at the chancery clerk's book, or having someone tell you to come back later. That's old school.
How will you pay for this?
I don't know the cost, but I think in essence it will pay for itself in the long run. We have to modernize ourselves whether we like it or not. I upgrade my cell phone and a lot of other things. It's just the price of doing business.
How will you bring e-filing to the circuit court?
I am interested in getting the technology to do e-filing. I think most people are ready to do e-filing 24 hours a day. I am for it because it's convenient for (lawyers, and) it creates a good record for the archives later. ... For example, if an attorney's trial takes all day long and he has to file a response to a motion, he has until midnight to do it, and he can get credit as if he filed it at 8 a.m.
What are the differences between you and your opponent?
I think it's night and day: I'm technology savvy, and she's not.
What are some examples of being technology savvy?
Well, for example, I'm doing the agenda for the school board now, and it's a technical thing. I know how to scan things electronically, make a PDF document or convert a Word document to a PDF. I think I know how to handle most things electronically.
It seems like being organized is key for an office like this to run smoothly.
Organization and staying on top of things are key. You can't allow stuff to stack up. You have to work every day to keep everything current, like with the voter rolls. I think the voter rolls should be as current as a newspaper. People move out of Hinds County, within the county, and people pass away. All these transactions have to be taken into consideration to make our voting rolls current. It's the same for all the other documents in the office. There also needs to be a ratio for the number of cases per person that they can take care of. ... And then, to eliminate errors, there should be a template for every transaction. If a person comes in to get a marriage license, they will have to follow steps one, two, three and four.
WAPT reported that you violated the 150-foot distance requirement for campaigning in front of the Hinds County Courthouse this month. How do you respond to that?
I thought I was far enough away. I would have never intentionally sat within 150 feet. I was 150 feet from the front door. I think they measured from the side door. ... It never occurred to me that my back wasn't 150 feet away from the side door.
To read more candidate interviews and more political news, visit http://www.jfppolitics.com and follow @jfppolitics on Twitter.