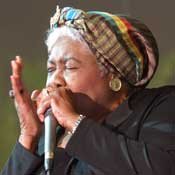 Her voice glides through the air like silk. She takes the audience by the heart and leads them on a fantastic, soulful journey with every note. With four Grammy nominations, four gold records, two platinum records, an Image Award, Billboard Magazine Award and the Governor's Award for Excellence in the Arts, she has earned a spot on six Mississippi Blues Trail markers. She is Jackson's greatest cheerleader and champion of the Farish Street District development. She is Dorothy Moore.
Moore was born to a teenager in a house near the corner of Monument and Mill streets. "Black people were poor and had to be delivered at home by a midwife," Moore says.
She lived with her mother and great-grandmother, who recognized her signature vibrato voice when Moore was just 3. She sang in church when she was 5. Singing was in her genes. Her father, Melvin Hendrix, aka Henderson, was a member of the Mississippi Blind Boys group. Her mother, Mary Moore, was also a singer.
"Farish Street was lively," Moore says. "The street was filled with cafés and their doors were flung wide open and music streamed out. My great-grandmother and I would walk together up and down the street and hear the music."
It wasn't just the blues that caught her attention. Moore found music in her daily life on Farish Street. "I could hear and see the train just up the street. I'd hear the wheels make a sound and sit on the porch and sing to the rhythm of the train passing. I could feel the melody and timing that the wheels produced. Slow or fast, I had a song for it," Moore says.
Nothing embodied her childhood more than music, she remembers. "I played with music when most girls played with dolls and toys," she says.
At 12, Moore won weekly talent shows at the Alamo Theatre. She attended Smith Robertson Elementary School, Lanier High School and, later, Jackson State University.
"That's when I started singing the blues," Moore says. "Jackson was nothing but the blues up and down Farish Street. That's all you'd hear on the jukeboxes and talent shows was the blues."
It was on jukeboxes that Moore was exposed to Wilson Pickett, James Brown and Aretha Franklin. "I liked James Brown, gospel; and rhythm & blues, but I only sang the blues because that's all they sang at the Alamo," she says. "It just sounded good when I sang it. There is so much feeling in (the blues). No other music can really go down and go deep as the blues."
Producer Bob McCree knocked on her great-grandmother's door at 10 p.m. one night. "We lived in a shotgun house, so my bed was in the front room by the door," Moore says. "When I heard what he was talking about, I stood up straight and walked right out of the bed I was so excited."
McCree put Moore with two singers and formed the Poppies. In 1966, they signed with Epic Records. The Poppies sang back up for artists like Freddie Fender, Peggy Scott and JoJo Benson. In 1966, the Poppies recorded two hit singles, "Lullaby of Love" and "He's Ready."
Moore had a solo career with Malaco Records in 1976, where she recorded the Grammy-nominated single, "Misty Blue." A year later, she recorded a second Grammy-nominated single, "I Believe You."
At the 1977 Grammy Awards, she was nominated with Aretha Franklin and Natalie Cole, and she sat next to Ringo Starr. When her category was up, hosts Gladys Knight and Michael Jackson took turns singing a piece of each nominated song. When "Misty Blue" was mentioned, Michael Jackson took the microphone. "He didn't have it right," Moore says.
"He just didn't sing it good to me. He was more pop, and I was R&B."
She only likes a few music greats before her, she says. One is Frank Sinatra, who was known for recording his songs on one take. Moore recorded "Misty Blue" in one take.
Moore made a change in the late '70s to concentrate on her family, but in 1986 she came back with a gospel hit. She returned to secular music in 1988, recording two albums for the Volt subsidiary of Fantasy Records. In 1990, she returned to Malaco, and in 2002, Moore started her own label: Farish Street Records of Mississippi. (farishstreetrecords.com)
"I wanted to take creative control of what I do," she says. "I was tired of people telling me what to sing and who to work with."
Moore is excited about Farish Street development. She is also impressed with young blues. "Young people like Grady Champion and Zac Harmon are adding more rock to their blues," she says. "Blues was a man and his guitar or harmonica. But younger people need to find themselves in the music."
Moore has new skills on the harmonica. Picking up the instrument more than three years ago, Moore recorded and produced "Blues Heart," due out next year and featuring her harmonica. She will headline the Sunflower Music Festival in Clarksdale this August for the first time.