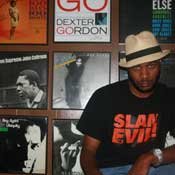 Before we get started, I have to open up with a bit of disclosure. The topic of this week's column, Herbert Brown, aka James Crow, aka The Ugly Poet, aka Satchel Page, aka Stogey Woods, depending on the situation, is a good friend of mine. It is no secret that I am friends with a lot of the people I write about here, but Brown and I go a little deeper. We have been tight since our days as south Jackson youngsters and even graduated high school and went to college (the first time) together. These days, I spend some of my time co-signing on his lyrics and as his on-stage hype-man during live performances.
I say all of that because, one, it is the right thing to do, and two, because I want you to know that you can trust what I tell you, no matter what my relationship is with the subjects. This is no undisclosed, corporate radio-style pay-for-play situation.
The trajectory of Brown's artistic career is somewhat complex, but also perfectly logical. He recalls his first rap performance when he was 8 at a church camp, where some adult topics in the lyrics caused a quick shut down of the show, but brought the admiration of some of the older females in the audience. Cut to 12 years later, and Brown, 21, is on stage with Skipp Coon (together they were known as Team Blitzkrieg) at Seven*Studios.
"It was around this time, in 2000, that I realized I could really do this," Brown says.
He did some more concerts and talent shows for the next year or so, but in 2001, things changed. "Hip-hop was consuming me," he says. Doing nothing but writing and performing raps, and feeling overwhelmed and burned out, Brown stopped rapping altogether. "It was a really dark period of my life."
Martin Luther King Jr. once said that "[d]arkness is only driven out with light, not more darkness." Listening to jazz one day, the darkness began to reveal the light, and Brown found a new voice as a poet. Soon after, The Ugly Poet was hosting open-mic sessions in Starkville and tearing up the Jackson spoken-word scene.
By 2006, he published a book of original poetry, "The Beautiful Thoughts of the Ugly Poet." On the heels of the book, Brown traveled to New York, Los Angeles, Miami and New Orleans to perform. He was not writing any raps at this time, but that would soon change, after his brother, 5th Child, finally convinced him to record a verse for the song "Gangsters Don't Rap."
Suddenly, Brown was rapping again, and James Crow was back. "At that point, I felt that I had a better grip on life," Brown says. "I had a wife, a kid, a home, a nice job. I'll do this, but under my own terms." He began writing for his album "The Black Codes" in 2008, which is set to be released Nov. 12 of this year, his birthday (and mine, too, in the spirit of full disclosure).
Now, there is a sense of balance for Brown, as James Crow is performing steadily, and The Ugly Poet is hosting open-mic poetry at Suite 106 on Sundays. Yet, Brown is uncomfortable labeling himself as either a poet or a rapper and he never does both at the same time.
"I am a writer," he says matter-of-factly. "There's a constant drum beat in my head. If it is loose, I am writing poems. If the beat is tighter, I am writing raps."
Visit http://jamescrow.bandcamp.com to listen to Brown's music. He hosts open-mic poetry at Suite 106 every Sunday from 6-10 p.m. Call 601-940-7059 for more information.