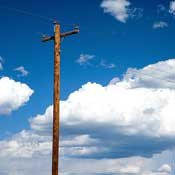 Few people attend the monthly meetings of the Mississippi Public Service Commission, outside of utility company officials and their host of attorneys. Generally, when the talk is about electricity, gas or telecommunications, eyes glaze over.
But the Public Service Commission is an essential body of state government charged with overseeing the behavior of the state's biggest power-producing monopolies. It also makes sure telemarketers adhere to cold-call rules set by federal and state laws, but the monopoly-overseeing bit is the part that dictates how much your monthly power bills go up or down.
Power companies must approach the three-member commission for permission to implement rate increases. Commissioners, who are elected, receive political backlash for allowing those rates to jump up noticeably. It's a workable relationship, but some new candidates are trying to see how far they can push the most recent backlash.
A majority of the commission voted last year to allow Mississippi Power Co. to charge ratepayers for construction of a $2.88 billion coal-burning plant in Kemper County--after some coaxing by Gov. Haley Barbour. Barbour's former Washington lobbying firm helped secure some federal money for the project (thus, he arguably benefits from the construction because he receives a income in the form of a blind trust from the firm). But Mississippi Power Co. ratepayers have to fund the brunt of the thing, and commissioners did not release its potential rate increase impact to the public. Nor have they allowed the rate increases, which could end up as a 50 percent increase, to slip into customers' monthly statements prior to the election.
The two commissioners favoring the construction of the plant, incumbents Leonard Bentz and Lynn Posey, say the coal plant will pave the way to a future of stable or cheap electricity prices because coal is one of the country's most plentiful energy resources. They say they are not only looking to the state's long-term future, but that the plant will put Mississippi at the forefront of a carbon-neutral energy revolution. The Sierra Club, an environmentalist group, says the plant's carbon capture technology is unproven and unreliable.
Only Northern District Democrat Brandon Presley opposed the construction of the plant. Presley screamed into every microphone his reasons for opposing the new plant, and protested the power company's desire to keep the rate increases private. He was a minority of the board, however.
Candidates are lining up to attack the incumbents for that decision. Republican and self-professed Tea Party candidate Travis Rose said the Kemper County plant decision was his main reason for running against incumbent Bentz.
"As a Tea Party member ... the Kemper County decision really upset me," said the St. Martin resident. "Our elected officials like to claim they're transparent and accountable. Yet, when I go on their website regarding the Kemper plant I see one press release on Kemper County, and you have to go into their archives to see something from last April with them bragging about it capturing CO2. They don't tell us about any estimate of what it's going to do to our utility rates."
Democratic candidate James M. Buckhaults, a former Ellisville alderman, said he was waiting to take Bentz on in the general election for the same reason. "They decided to go along with the Legislature in making us pay for that thing before they even start building it, which I think is crazy," he said.
Buckhaults will first have to beat southern commission Democratic candidates Thomas Blanton and Mike Collier before he gets that privilege. Neither Blanton or Collier returned calls.
Republican Lynn Posey faces no opposition from his party; Haley Barbour's nephew Charles Barbour politely ducked out of the race. Posey adhered to Barbour's wishes in favoring the Kemper County plant. Posey must contend with Democratic opponents Bruce Burton and Addie Green, and Independent Danny Ayers, however. Burton and Ayers could not be reached, while Green did not return calls by press time.
Presley faces no primary candidate, but is up against either Boyce Adams Jr. or Marvin Cox after the winner survives the Republican primary. A Tea Party of Mississippi founding member, Cox pushes no real issues on his campaign website (http://www.votemarvincox.com), but touts himself as a "Christian Conservative Republican who seeks to provide better access to commissioners and staff." His website reveals no insight he may have upon PSC business.
Adams, who co-owns with his father a bank software developer BankTEL Systems, has a Vanderbilt University bachelor's degree in economics and political science. On his website (http://www.boyceadams.com), he says he worked in the George W. Bush White House focusing on presidential appointments to energy regulatory institutions. He plans to "keep energy costs low and maintain reliable energy sources." He does not say whether he would have voted differently from Presley on any decisions.
Previous Comments
ID

164170

Comment

The reason why candidates dont put anything on their websites is to prevent their opponent from stealing thier ideas. If you want to really compare Marvin Cox and Boyce Adams, check out this video: http://www.youtube.com/watch?v=W-TnXVxLQC0 There is no contest, Boyce Adams had absolutely no ideas to bring to the table. Googling people at the WH for 6 months does not a Public Service Commissioner make. He is 26 years old who works at his Dad's business. He graduated college in June 2007. He worked for American Airlines in Global Sales. He worked in the White House doing research for presidential appointments and then as an advisor to the FAA Administrator at the age of 23 yrs. old. "and joined the team full-time in February 2009." referring to working at his Dad's business. That's all in a year and a half out of college. I feel he is too young and has really done nothing for me to trust someone so young in charge of our State's utilities. Both candidates are well educated college grads.

Author

jdirt

Date

2011-07-31T02:29:28-06:00