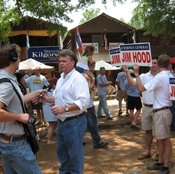 Political candidates walked a fine line Wednesday at the Neshoba County Fair, trying to persuade voters that they were neither inexperienced nor—a harsh indictment—a "career politician."
Lieutenant governor candidates Billy Hewes and Tate Reeves, both Republicans, attracted a large crowd of supporters for their back-to-back speeches. Cheering sections for both men sat near the front of the pavilion in Founders' Square, and each candidate tried to seal the deal ahead of the Aug. 2 primary. With no Democrat in the race, Hewes and Reeves are the only two major-party candidates for lieutenant governor. Hewes and Reeves focused on challenging each other's campaign ads and hitting the high points in their platforms.
Hewes said he wants to eliminate the state inventory tax and require drug testing for welfare recipients. Several times during his speech, he encouraged supporters to chant, "It's your money." He said he has a good record of working with Lt. Gov. Phil Bryant and Gov. Haley Barbour, but denied that his time in the state Senate makes him a "career politician."
State Treasurer Reeves accused Hewes of lying by claiming Reeves had only gotten a hunting license to run for lieutenant governor. Reeves said that wasn't true. "A man who would lie about another man's hunting license is liable not to tell the truth about other things too," Reeves said.
He also said the No. 1 challenge facing Mississippi is that too many young people pull up roots and move out of state to find work.
In the attorney general's race, Republican challenger Steve Simpson devoted most of his time behind the podium to blasting Democratic incumbent Jim Hood with accusations of openly embracing political corruption and only prosecuting State Farm and BP for political gain.
"I'm not a professional politician, and I never will be one," Simpson said.
Calm and relaxed, Hood responded by touting his efforts to prosecute and prevent domestic violence and Internet crimes, especially child pornography. "The Internet has become the crime scene of the 21st century," Hood said.
The Neshoba County Fair continues Thursday with speeches from Gov. Haley Barbour and candidates for governor. Follow @jfppolitics on Twitter for real-time updates from the fair.