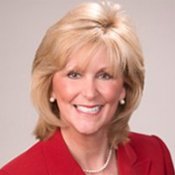 Lynn Fitch, 49, hopes to become the next treasurer of Mississippi. One of three GOP candidates, she faces Lucien Smith and state Senator Lee Yancey. If victorious, she would then face off against Democrat Connie Moran and Reform Party candidate Shawn O'Hara. She has a business administration bachelor's degree and a law degree from the University of Mississippi.
Fitch worked as a private-practice bond attorney. "In those years of private issues, I represented the state in numerous bond issues," she says in her campaign ad. Seeing it from the private side gave her a different angle. Gov. Haley Barbour chose Fitch as executive director of the Mississippi State Personnel Board in 2009. She also served as the deputy executive director of external affairs and support services at the Mississippi Department of Employment Security. Fitch was named one of the 50 Leading Business Women in Mississippi.
She recently received an endorsement from former Arkansas Gov. Mike Huckabee, who praised her as "a pro-life conservative leader, who understands how to efficiently spend taxpayer dollars."
Fitch runs on a platform of cutting spending and reducing debt. Fitch shares her campaign focus on fiscal conservatism with her two GOP opponents, but is distinguished by being a female candidate in a largely male-dominated election field, as well as by her background in financing from her experience as a bond attorney. A common theme in her campaign is her assertion that she is a stronger candidate than her rivals because she will be ready on day one, and that she will not need on-the-job training.
Fitch is a strong supporter of the MPACT prepaid college tuition program. "It is a wonderful program, and we need to continue that program."
Fitch cites faith and family as important in times of crisis and making it possible for her to run for office. She says that when she was younger, her father taught her about finance and how to manage money. She has a close relationship with her father and spends time riding horses with him on his farm. Fitch is a native Mississippian, lives in Madison and has three children: Mackenzie, 24; Marye Will, 16; and John Tucker, 13.
Previous Comments
ID

164157

Comment

Humor me and tell me what she's done to be a JFP person of the day. Promoted the city? Arts? Charity?

Author

Pilgrim

Date

2011-07-28T17:20:04-06:00
ID

164158

Comment

Hi Pilgrim, Person of the Day articles can be positive, negative or neutral. We weren't able to interview Lynn for our issue that is on the streets now. We simply wanted to get information out to voters about candidates in the primary elections before Tuesday.

Author

Lacey McLaughlin

Date

2011-07-28T17:40:16-06:00
ID

164162

Comment

Rumor is Lynch Fitch is an avid biker that shops locally and is very pro-Jack.

Author

jbreland

Date

2011-07-29T10:21:47-06:00
ID

164163

Comment

Lacey, to be honest, it sounds like someone scraped her bio from a website and used it for your Person of the Day. In effect, it looks like whoever wrote this "phoned it in." And while everyone has bad days, I really thought the JFP was better than that. jbreland - that would have been cool to know for the Person of the Day.

Author

Pilgrim

Date

2011-07-29T11:41:47-06:00
ID

164164

Comment

Pilgrim, allow me to step in here. I know you don't like Fitch, which is fine, but there is no reason to start throwing around insults. This was a quick Person of the Day blurb, not an investigative or even a quick news story, and it was dropped in the lap of a new intern on his first day here. I've written down-and-dirty PODs myself when in a time crunch. I will also add that Lacey is outdoing herself right now, finishing a cover story, assigning the weekly and daily news, training a new cub reporter and running to the Neshoba County Fair to cover political candidates. With due respect, back off.

Author

DonnaLadd

Date

2011-07-29T12:13:13-06:00
ID

164165

Comment

Pilgrim, If you'd like to freelance and write the kind of stories you'd like to see the JFP do more of, I encourage you to email me at Lacey@jacksonfreepress.com

Author

Lacey McLaughlin

Date

2011-07-29T12:19:13-06:00