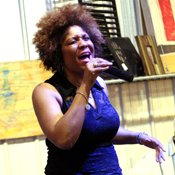 It's a beautiful night of jazz in Fondren that will involve all your senses. Jazz Night Live is at 7 p.m. at circa Urban Artisan Living (2771 Old Canton Road). Jazz Beautiful with Pam Confer performs, and Pam Confer also celebrates her birthday with cake, a toast and a perfume giveaway. See, hear, taste, smell and feel the night. Why limit yourself to Fondren? After the jazz, catch some other live acts in the JFP Music Listings.
Saturday offers some big events. The Dig It Hip-hop Dance-a-thon is at 12:30 p.m. at Courthouse Racquet and Fitness Club (2625 Courthouse Circle, Flowood). Everyone is buzzing about "The Help" benefit screening at 1:30 p.m. at Malco Grandview Theatre (221 Grandview Blvd., Madison). It may be hard to get a ticket, but it's worth a shot. Or you might prefer The Top of the Hops Beer Festival starting at 2 p.m. at the Jackson Convention Complex. Best Bets has many options for Saturday fun.
Looking for a place to take your date Saturday night? Stand-up comedy is a great choice. Silly Saturdays begins at 9 p.m. at Bamboo Stix Sports Bar (5020 North State Street). It includes local stand-up comedy and an after-party for ages 21 and up. If you need other date ideas, refer to the JFP Events Calendar.
Sunday, go out for breakfast or sleep in and find brunch. We hear some restaurants are offering "The Help"-themed menu items. Hmm. If you need help finding the right dining experience, check out JFP Restaurant Listings and the Menu Guide .
Later Sunday afternoon, catch a movie. Art House Cinema Downtown at Russell C. Davis Planetarium (201 E. Pascagoula St.) includes "Swan Lake" at 2 p.m. and "In a Better World" at 5 p.m. and 7 p.m. Also, Global Lens Sunday Matinee is at 2 p.m. at Mississippi Public Broadcasting (3825 Ridgewood Road), in the auditorium at the R&D Center. You can search for more films showing in the metro area at JFP Movie Finder.
Also on Sunday is another concert in the The GenerationNXT indie series at Dreamz JXN. This Sunday features music by Doe Hicks, Rashad Street, Trumpcard and Pee Wee.
Is something missing? To make sure your event is listed on the JFP calendars, send the information to [e-mail missing] or [e-mail missing], or add your event yourself. It's easy!