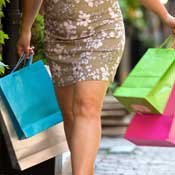 The tax holiday started just after midnight and continues through midnight on Saturday. Shoppers will save 7 percent on eligible items.
The tax holiday does not include all retail purchases. Clothing and footwear that cost less than $100 are exempt from sales tax. Accessories such as jewelry, purses and backpack are not eligible. School supplies are also not eligible.
For information, visit the Department of Revenue's website.
Also see: The JFP's FLY flipbook for shopping inspiration.