Wednesday, August 8, 2012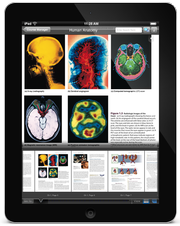 Headed to college—or back to college —and want to take some tech with you? Not a bad idea, as there are some great tools for taking notes, studying and managing your time that can help a busy college student make the most of the experience. (And, as a bonus, if you're still hitting up the "units" for an iPad without success, this column may help with your pitch. Good luck!)
Actually, before I get to iOS products, I do want to mention the LiveScribe Smartpen (livescribe.com)... because it's really pretty darned cool.
First, the "magic pen" (my name for it) makes a visual record of everything you write in the special LiveScribe notebooks: notes, drawings, outlines, etc. When synced to a computer—or, via LiveScribe Connect, you can also sync to an iPad, iPhone or iPod Touch—you can view those notes on-screen, scroll through them and access the video.
Another cool feature of the magic pen doesn't even require a computer. As you're writing, the pen can record the audio in the room, so that you can, for instance, record lectures or meetings while you're taking notes. The best part is, you can return immediately to a given portion of a lecture or meeting by tapping the notes you were taking at the time. If you write down "important point about ballistics functions" around the same time your professor said something you need to remember, you can tap that note, back up a few seconds, and you've got exactly what was said.
Livescribe even has something called a Pencast, which makes it possible for you "relive" a lecture by playing the audio and showing the notes being taken at the same time. For a cram session or for sharing notes with others who missed a class, it might be a great study solution.
Meanwhile, back to the iPad; if you have one, a few key apps can really improve the college-attending experience. (Of course, some of these are great on iPhone.) Here's a quick round-up:
• Evernote (http://www.evernote.com) It's free, at least until you need a ton of storage, and Evernote is great for all kinds of study-related applications. Take photos of whiteboards or chalkboards, class handouts, syllabi and test schedules and sync with Evernote so you'll have always-on access to it in the cloud. You can even take photos in the library of book pages instead of photocopying, and you've got quick access for your research needs later. And, of course, your Evernote archives typed notes and drawings.
• Workflowy (http://www.workflowy.com). Absolutely my number-one recommended self-management tool. Easily create outlines, hierarchical lists, brainstorm ideas and topics, jot quick notes. It's not the only tool you'll use to get things done, but it's absolutely fabulous for helping you remember items in a pinch.
• Wikipanion (http://www.wikipanion.net). Offers quick access to Wikipedia using a special app instead of Safari. With the paid version you can track the articles you've been reading and store them offline for access later.
• Notabilty (http://www.gingerlabs.com/cont/notability.php). Import PDFs and highlight or annotate them on the screen, draw notes on the screen, type new text, and sync it all on DropBox. It'll even record while you're taking notes, enabling you to manage all of your class-attending needs from one app.
• Kno (http://www.kno.com) enables you to download textbooks to your iPad, take notes in the Journal (clipping text and images), bookmark special sections, add virtual sticky notes and generally manage your books digitally, even creating flashcards automatically from the terms in the book for studying. The textbooks are still pretty expensive, but you'll see some savings compared to buying new dead-tree versions. (Coursesmart, a competitor, offers "rental" textbooks and a number of free apps; the reviews aren't as glowing, but you might find the textbook you need at a good price.)
• iStudiez Pro (http://www.istudentpro.com). Yes, you could use any of the popular to-do or task-management apps for managing your class and study schedule, but iStudiez may be tempting because it does it all: class schedules, assignment tracking, grade and GPA tracking, plus a schedule planner for study time, extra curricular activities and relaxation. Istudiez offers its own cloudsync service, giving you a familiar interface on your iPad and in a browser window.
If you are new to using the iPad to create (rather than just consume) content, you might not realize what a boost it is to have an external keyboard. Cases abound that include a keyboard, although I find that I do great by simply packing an Apple Wireless keyboard (the small one) in my bag along with my iPad. You can get the Origami Workstation (http://www.incase.com) to pack the keyboard and display the iPad when in use.
On the other hand, the ClamCase (http://www.clamcase.com) is interesting: It's not cheap at $149, but it essentially turns your iPad into pretty well-protected little netbook, and of course, you can pop it out for reading and carrying around.
And, if you don't have an iPad yet, but this stuff looks too awesome to pass up, Apple is offering a $50 App Store credit for any new iPad 3 purchase, including at educational pricing. See apple.com/education/store for details.
Todd Stauffer is publisher of the Jackson Free Press. Email him at todd at jacksonfreepress dot com.