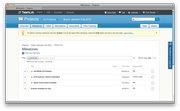 June 27, 2012
The recent wholesale upgrade to the Jackson Free Press website was quite an undertaking. For the first time since 2002, we have completely changed not just to a new design, but to an entire new "backend" as well, switching to a different Content Management System, or CMS, for our stories, events, restaurant listings and so on.
Upgrades in the past had all been in the same family of products, from one company (pMachine, later Expression Engine, by EllisLabs), with a defined upgrade path. Now, everything has changed, in an effort to bring a fully modern newspaper website to our readers. Already the site is better at presenting content such as photos, videos, related stories, documents and other items we think are important for our readers (and fun for us); over the next few weeks we'll roll out new tools, including improvements to the mobile-enabled site, more options for online discussions and, well, a couple of very cool surprises.
This process, believe it or not, has taken about six months, from learning the basics of the tool we're using to getting the import script to work (a huge one), figuring out how to bring along a decade's worth of our all-important reader comments (and discussions) from our earlier sites, and building out the new design. (Hats off, by the way, to Matt Heindl, our primary architect of this transition, who has had help from the whole team including Kristin Brenemen, Latasha Willis and Dustin Cardon.)
And having been through this process, I now fully realize the value of having a good project management tool—and using it!
When the project started, our vendor set us up in Basecamp (basecamp.com), the project management tool from 37 Signals that is very popular in "silicon" circles. Basecamp is attractively designed, gives you a way to offer a repository for information (like links to documentation, FAQs, etc.) and has support for ToDos, milestones, and even whiteboards for sharing documents and brainstorming sessions among one another.
Basecamp is a great way to manage a project, and probably gave us everything we needed for managing this website transition—we just didn't use it much, at least on our end. As I've mentioned in previous columns, I'm a little addicted to Workflowy (www.workflowy.com), and Matt and I would primarily use it to note bugs, design ideas, feature implementation questions and so on. That gets a bit messy though—sort of the virtual version of the eight different used envelopes I have sitting on my desk right now covered with notes and ToDo items. (Yes, seriously.)
For me, one great feature in Basecamp is the way it handles discussions—if you're part of a message thread, then you're alerted when someone says something new on that thread. Replying above their reply (in email) places your response on the Basecamp site, where you can later return to that discussion to see what was said. That combination of email and web-based message board is great for keeping discussions from getting too wound up in "reply all" purgatory, plus they're easier to browse and search.
Milestones and to-do lists are easy enough to use, although if I have one minor gripe it's that they seem to assume projects take relatively few steps. For quickly listing lots of bugs or quick fixes or fast notes, I like a tool like Workflowy more. (Of course, you could link a shared Workflowy to your project if desired.)
If I have a major dig for Basecamp, it's that they charge based on the number of projects you want to manage—which means it's impractical for something like managing a weekly newspaper with a new project for each issue. That's one reason I've been looking closely at TeamLab (teamlab.com) these past few weeks.
While I feel like Basecamp is really nice for managing a group of freelancers or far-flung project participants, TeamLab is nicely geared for managing a lot of the interaction for a small to medium-sized business. With CRM and a community dashboard built in, you've got an "intranet" solution with all of the potential of a shared address book, customer tracker, and the ability to share a lot of info with your co-workers using forums, blogs, live chat and wikis.
Having the project management tools built into this overall intranet is nice; I'd say the Basecamp experience is a bit slicker, but TeamLab offers some clear advantages, such as the option to store editable documents directly within the project itself (you can create documents, spreadsheets, presentations and drawings) and edit them as a group. TeamLab also has a time-tracking tool built in, which is nice if you're billing clients by the hour.
TeamLab is free for initial use, and then they charge based on the amount of storage space you use—$49 per month for an extra 50 GB of storage (you get 1 GB for free). A built-in email client is planned for a future upgrade, which could really set TeamLab up as a tool your employees spend most of their day in, hopefully making them more organized and productive along the way.
Comment and email Todd Stauffer at todd@jacksonfreepress.com.