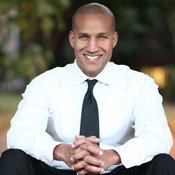 The Mississippi Business Journal recently selected Dr. Timothy Quinn as one of its Top 40 Under 40 business leaders for 2012. Top 40 Under 40 recognizes the state's 40 up-and-coming business leaders under the age of 40.
"I have always known that I wanted to help people. Doctoring helped me accomplish that," said Quinn, a 39-year-old McComb native. Growing up in rural Mississippi, Quinn saw many people unnecessarily suffer from medical conditions such as elevated cholesterol, diabetes and hypertension, which are all conditions that can be deadly if not controlled properly. Now Quinn helps people with dieting, exercise and general health.
"I believe that health and wellness are keys to true success, and the only way to empower our population is to provide them with knowledge," he said. Quinn shares that philosophy through his Family Care Walkers for Life Program, which promotes health and wellness. The program educates the public about the importance of a healthy lifestyle, and it demonstrates ways to enhance physical and mental well-being. The program offers participants a two-week trial membership at the downtown YMCA. Participants meet every Saturday at 8 a.m. to walk. In addition to exercise, general physicians, trainers and dieticians treat the participants to guess lectures. Trainers are on board to insure the participants have a safe and enjoyable experience.
When asked what his favorite things about Jackson are, Quinn quickly responded, "The people. The support that I've been given to serve as a medical provider in the community."
In his practice, Quinn Health Care (768 Avery Blvd., Ridgeland 601-487-6482), Quinn specializes in family medicine, running the gamut from hypertension, cholesterol and diabetes to headaches, upset stomachs and broken arms.
Dr. Quinn has been practicing medicine since 1999. He has a 10-year-old daughter who attends St. Andrew's Episcopal School. He and his fiancee, Jasmin Searcy, co-author health features for the Jackson Free Press.