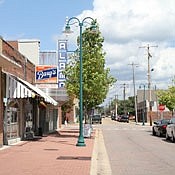 The Jackson Redevelopment Authority voted to move ahead with a non-binding agreement with the Farish Street Group at a meeting Monday. If approved by the City Council, the Farish Street Group will receive a $10.2 million loan via a bond issue.
The funds will go toward finishing construction of the first block of the Farish Street project, from Amite to Griffith streets, which includes 13 entertainment and nightlife venues.
The Farish Street Group will offer up to $11 million in historic tax credits as collateral for the loan, which the group will repay over two years after the city approves and JRA finalizes the agreement.
Watkins Development's Farish Street Group bought the redevelopment project from Performa Entertainment Real Estate in 2008. The group has sought a loan from the JRA since late last year.
"The parties were in negotiations," JRA board member John Reeves said. "It took that long to get the agreement worked out between the Farish Street Group and JRA."
Reeves said the approval process might take another month or so. "The City Council's got to check off on it and approve it. I'm sure they will. And then we'll issue the bond," he said.
Landscape architect Steven Horn introduced the project to turn the two-block section of Farish Street into an entertainment and nightlife epicenter of Jackson to city leaders in 1983. Most of the stretch is vacant, as the often-delayed project remains in the works.
More Stories on Farish Street:
Farish Street Reborn
Farish Street, Capitol Green Moving Forward
Farish Street Seeks Investors