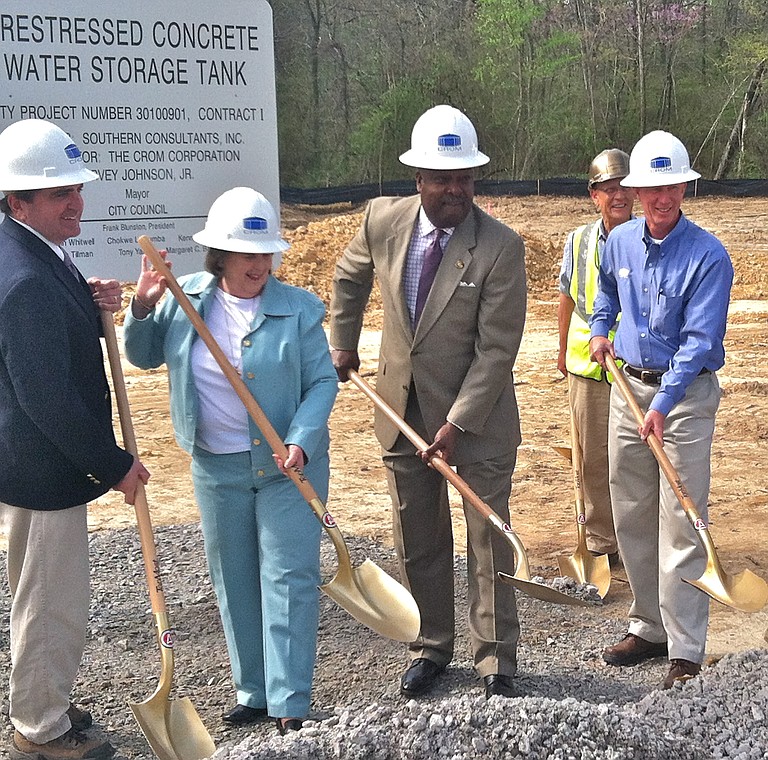 The city broke ground Wednesday on a new water-storage tank to replace Jackson's only well system still in use. Once the project is finished, southwest Jackson residents will join the rest of the city in using a surface water system.
The entire project will cost about $5 million, which will come out of the city's $30-million budget for waterline repair and replacement for this year, Mayor Harvey Johnson Jr. said Wednesday.
The city will build the project in phases; it includes a 5-million-gallon storage tank on TV Road, a 24-inch water main and a booster station with three pumps, each capable of pumping 4,000-plus gallons of water per minute. The new system will serve southwest Jackson and most of Byram.
While construction on the first phase of the project began Wednesday, residents shouldn't expect to see the full upgrade anytime this year.
"Overall, we won't start the elevated storage tank probably until the winter of 2013," Johnson said.
The surface water system will replace six deep wells currently in use, including three that are more than 40 years old.
"We have a plan in place that was done back in the late '90s, early 2000, and one of the things that that plan called for was eliminating our well system," Johnson said.
The city contracted the work on the project to The Crom Corp., a Gainesville, Fla.-based maker of prestressed concrete storage tanks.
"It's a normal job for Crom," Gerald Bevis, the company's area manager, said. "There's always challenges. Every job is different, but once our crew moves in, they're very experienced and have built tanks of this type for decades."
Crom has built approximately six tanks in the Jackson area already, including a 3-million-gallon tank at the corner of Highway 18 and Maddox Road, Bevis said.
Johnson said the biggest benefits of a surface water system are better water pressure and cost of water treatment.
"All of our water is safe, it's just that it takes more to treat the well water than it does the surface water," Johnson said. "They probably won't see a difference in the quality of their water, but it's reliability of the water that we're working on."
The water for the system will come from the Ross Barnett Reservoir.