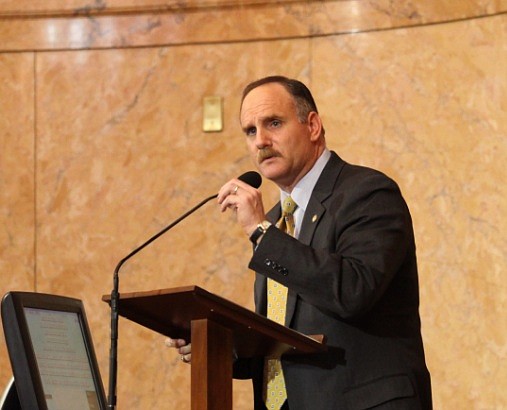 Beating the clock has been the name of the game in the Mississippi Legislature as lawmakers came up against crucial deadlines.
By the end of this week, each house has to sift through the bills that are still alive, vote on them and send them to the other chamber for consideration. Just last week, lawmakers faced the deadline for bills to be voted out of committee in the chamber in which they originated. An estimated two-thirds of all pieces of legislation filed since the session began in early January died in committee.
One of the most notable bills on the House calendar is HB 488, which requires police officers to stop people who look like they might be undocumented immigrants.
"They have no idea about the lives of immigrants they're talking about," said Bill Chandler, executive director of Mississippi Immigrant Rights Alliance, after the bill passed out of committee earlier this month.
Looking to expedite things a bit, House Rules Committee chairman Mark Formby, R-Picayune, last Wednesday developed a calendar of "noncontroversial" items, which he defined as topics that will require less than three minutes of debate.
Also on Wednesday, House lawmakers considered pay raises for Mississippi judges and prosecutors.
Rep. Mark Baker, R-Brandon, who chairs the House Judiciary A Committee, noted that Mississippi's judges and district attorneys are among the lowest paid in the nation and the southeast. Baker added that Mississippi Supreme Court Chief Justice William Waller Jr. receives the lowest chief justice salary in the nation.
Rep. Kelvin Buck, D-Holly Springs, questioned why prosecutors and judges needed pay raises when Mississippi's teachers, law enforcement officers and mental health professionals are also among the lowest paid in the nation.
Meanwhile, Senators could wrangle with a proposal designed to scale back the powers of the state attorney general. The House passed Republican Speaker Philip Gunn's Sunshine Act on February 15.
Legacy Comments
Speaking from an ex-GOP position, looking at the national and state party functions and trends, I'm likening its direction to that of Churchill's analogy of the Iron Curtain. What are you thinking? Where does this end?
2012-03-12T20:32:16-06:00
From the bizarre actions of these guys of late, in a "Handmaid's Tale"-esque scenario where women (but not men) are punished for their "lifestyle choices" (to have sex) and turned into baby machines with minimal birth-control access and no choice whether to have a baby, even if she's raped. Welcome to GOP Creepyville. Better Republicans need to remake that party, and fast. Or it's going to go down in history as the Party That Rush Destroyed.
2012-03-13T09:39:46-06:00
Donna, I guess it all comes down to perspective; the current law only punishes men (but not women) for the choice to murder their own children. I suppose this is the same perspective and logic(?) that declares that justice is served in the case of rape by sentencing the rapist's daughter to death without a trial.
2012-03-13T14:45:09-06:00