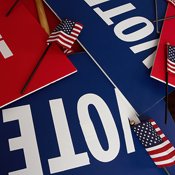 Both Democratic and Republican candidates are hoping for decisive wins in today's primary elections.
On the Democratic ticket, former Greenville Mayor Heather McTeer and incumbent U.S. Rep. Bennie Thompson are both seeking to represent Mississippi's 2nd Congressional District.
For Republicans, the biggest race today is the presidential primary. Former Massachusetts Gov. Mitt Romney has received several high-profile endorsements in recent days, including those from Gov. Phil Bryant and Lt. Gov. Tate Reeves. Romney, the longtime frontrunner, is hoping to solidify his place as the eventual nominee by proving he can win in the South, while the other Republican contenders hope to appeal to Mississippi's conservative base. Rick Santorum, a former senator from Pennsylvania, and former House Speaker Newt Gingrich have both spent time campaigning in Mississippi within the last week. U.S. Rep. Ron Paul of Texas is also seeking the Republican nomination.
Nominations for U.S. Senate are also on the ballot. Polls will be open until 7 p.m. today.