Wednesday, March 14, 2012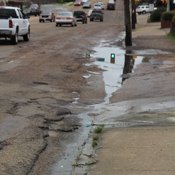 Fortification Street is a minefield of potholes and cracks and a patchwork of new and old resurfacing. After years of talk, Jackson officials have finally announced that the street, arguably the worst in the city, is getting a much-needed makeover.
The stretch of Fortification from Greymont Street to Farish Street is a hilly thoroughfare that commuters use to get to and from the interstate and several local businesses, such as Belhaven University and the Baptist Health complex, as well as residential areas including Belhaven and Belhaven Heights.
The only people who might want to see Fortification Street remain in its current condition are the mechanics who fix the cars that frequent the road. "Since I've been living in Jackson, I've had to have the front end on my car aligned like three different times, just from driving on Fortification," Fenian's Pub manager Josh Steights said.
Money is the biggest issue with getting the street repaved. Now, Jackson has combined funding from the city, state and federal governments and is ready to get started.
Mayor Harvey Johnson Jr. Said he anticipates bids for the project March 27.
"(It's) a multi-million dollar project. We can't give you an exact number because it's still in the bidding process," Johnson said.
The proposed plan will include a lot more than just repaving the street. From Greymont to Jefferson Street, the section nearest Interstate 55, workers will paint new lines and turn the current four-lane stretch of Fortification to three lanes, with the center lane serving as a designated turn lane.
New and wider sidewalks and decorative light posts are also part of the plan, as is moving above-ground power lines that parallel the street to an underground vault.
"It's going to make that area of Fortification much more pedestrian-friendly, slow down traffic (and) also give those businesses a clear turning lane," said Chris Mims, director of communications for the mayor's office.
The project will also replace some of the oldest water lines in the city. Mims said a few of the lines near Fortification are 80 years old.
"Every time the weather changes, one of the water mains breaks," Fenian's Pub general manager T. Francis said. "It's gotten to the point now that (no one) freaks-out when it's like, 'Oh, the water's crappy again.'"
Residents may experience short water outages during the replacement, but the city will notify them ahead of time, Mims said.
Once started, the entire project should take about 18 months, Mims said, but at least one local business manager is skeptical. "We're lucky if it (takes) 18 months. Everything else in Jackson takes longer," Francis said.
The plan also includes the placement of traffic cameras along with fiber-optic wires, six new traffic signals and all new street signs along the 1.2-mile stretch.
Several businesses located on Fortification are meeting next month to discuss how they will deal with the construction once it starts and reaches the entrances to their buildings. "We've got a couple meetings in the first week of April with Kats Wine Cellar, the people at Pizza Shack and McDade's," Francis said. "We're going to talk about how we're going to use parking lots."
Legacy Comments
It's long over due. I do hope they do the water main bit too. We live up the hill from Fenians and we've just stopped trying to drink the water. I hate to be inconvenienced while the construction is going on, but it's so terrible that I'm willing to deal with it to get it fixed. I hope the business owners are at that point too and will be cool with it. And I hope it's done properly.
2012-03-17T12:09:04-06:00