Wednesday, March 14, 2012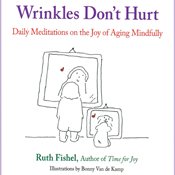 In my over-50 yoga class, I frequently see people frustrated by their inability to get a pose "right." I gently remind them that they're not 20-somethings any more and, usually, they laugh at themselves for trying so hard and relax a bit. After 50, bodies just don't respond like they used to. Muscles take longer to warm up, don't stretch as much, lose strength and take longer to recover. Everything's a little broader and hangs a little lower. Hair sprouts where it shouldn't and falls out where it really ought to stick around.
Our bodies slowing down and dealing with the inevitable effects of gravity are a couple of the things that suck about aging. But I've also seen people become more graceful and, by far, become much more accepting of themselves and comfortable in their own skins.
After 50, we tend to worry a lot less about what others think about us, confident that our lives have given us, if not the ability to handle life's bumps, at least the knowledge that we'll likely get over them. In my classes, I've seen the competitive instinct turn off, allowing students to explore their lives on a much deeper level.
Psychologists, Carl Jung among them, agree that the second half of life can be our most fulfilling time. If we've raised families, our fledglings have flown (although they may have come back). Friendships and relationships now span decades, allowing for greater ease and deeper intimacy. The fury of hormones subsides. It's a natural time to embrace deeper spirituality and comfortably explore new interests.
Recently, I've had the pleasure of discovering several books that address the multifaceted matter of aging with grace and humor.
Ruth Fishel's "Wrinkles Don't Hurt: Daily Meditations on the Joy of Aging Mindfully" (Health Communications, 2011, $14.95) is a daybook stuffed full of quotes, poetry, common-sense wisdom and affirmations. Fishel draws from numerous faith traditions, including Christianity, Judaism and Buddhism, and from authors, poets, humorists and many names I don't recognize. The June 16 entry is a quote from Walt Whitman ("Seeing, hearing and feeling are miracles, and each part and tag of me is a miracle"). Jan. 4 is this question from Satchel Paige, "How old would you be if you didn't know how old you were?" You could work your way through from Jan. 1 to Dec. 31, but I think picking pages at random is just as much fun.
Susan Moon's memoir "This is Getting Old: Zen Thoughts on Aging with Humor and Dignity" (Shambala Publications, 2010, $14.95) had me laughing out loud and weeping, sometimes at the same time. I recognized much of my own life in Moon's deeply personal exploration, which she wrote in her 60s. In the chapter titled "Senior Moment, Wonderful Moment," she writes:
"It's not my fault when I have a senior moment any more than it was my fault when my hair turned gray. I'm just a human being after all. I've had a lifetime of junior moments, when one word follows another in logical—and boring—succession, when each action leads to the next appropriate action. For countless years, I have remembered to bring the pencil with me when I go downstairs to use the pencil sharpener. I think I've earned the right to break free from the imprisonment of sequential thinking."
Damn right.
Moon says she and her friends have claimed the word "crone" for their own. In "Crones Don't Whine: Concentrated Wisdom for Juicy Women" (Conari Press, 2005, $14.95), author Jean Shinoda Bolen dives into the word with abandon.
"To be a crone is about inner development, not outer appearance," she writes. "A crone is a woman who has wisdom, compassion, humor, courage and vitality. She has a sense of truly being herself, can express what she knows and feels, and take action when need be. She does not avert her eyes or numb her mind from reality. She can see the flaws and imperfections in herself and others, but the light in which she sees is not harsh or judgmental. She has learned to trust herself to know what she knows."
In this slim volume, Bolen, a psychiatrist, feminist and author of numerous books (including the popular "Goddesses in Everywoman" in 1983) gives older women a 13-point "blueprint" for living lives to the fullest, including "Crones are fierce about what matters to them," "Crones improvise" and "Crones laugh together." I loved every juicy word, especially her four guiding principles: 1. Show up; 2. Pay attention; 3. Speak your truth; and 4. Pray for the best outcome.
Finally, if you're so inclined, two books by Suza Francina are sure to inspire anyone considering beginning yoga at midlife (as I did). "The New Yoga for Healthy Aging: Living Longer, Living Stronger and Loving Every Day" (Health Communications, 2007, $16.95) and "The New Yoga for People Over 50: A Comprehensive Guide for Midlife and Older Beginners" (Health Communications, 1997, $11.95) offer a wealth of knowledge and practical advice for people who are ready to explore their bodies in new ways.