Wednesday, March 14, 2012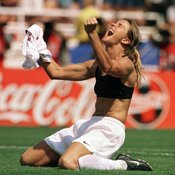 In 1995, Nike produced an iconic commercial. In it, young girls cited facts and figures about the benefits of girls playing sports.
"If you let me play, I will like myself more," the first girl said, followed by another saying, "I'll be more self-confident." One girl stated statistics on reduced breast-cancer rates (60 percent less likely), and others cited research showing lower rates of depression and teen pregnancy "if you let me play sports." A solemn little girl sitting on a swing said, "I will be more likely to leave a man who beats me."
Just about everyone who saw it still remembers the ad. Nike, nearly always ahead of the curve, recognized that women were an under-tapped market for its athletic shoes and apparel. The commercial has been criticized and praised, but you can't deny that it sparked a change by finally acknowledging that women played sports and that it was good for them.
The fuel for growth in women's sports is Title IX.
Also known as the Mink Equal Opportunity in Education Act, Title IX became law June 23, 1972. The law states, in part, "No person in the United States shall, on the basis of sex, be excluded from participation in, be denied the benefits of or be subjected to discrimination under any education program or activity receiving federal financial assistance." The act strives to end sexual discrimination in all educational opportunities, but its biggest impact may be on athletics; Title IX forced schools and universities across the country to stop starving their women's sports programs.
Think about this: Before Title IX, one in 25 women or girls played sports. Today, nearly 40 years later, that rate has mushroomed: One in three women or girls play sports.
Here are some of the big women's moments that have happened with the first generation of girls to play sports after Title IX.
In the 1999 finals of Women's World Cup, the United State scored a victory over China. After making the game-winning kick in a penalty shootout, Brandi Chastain ripped off her jersey and fell to her knees in a great show of emotion. Here was a woman showing the sheer joy of accomplishment.
Chastain's spur-of-the-moment exuberance has become iconic, and several news magazines featured her photo.
Title IX has allowed one strong woman, Pat Summitt, to build a women's basketball program that rivals any of the men's. Summitt's University of Connecticut women have had winning streaks not seen since John Wooden at UCLA. Wooden's UCLA men's team won 88 straight games from 1970-71. The Uconn women had a streak of 70 wins that broke in 2003. Five years later, a new group of extraordinary women went on to win 90 straight games. No streak in college basketball is longer, and Summitt has more wins as a college basketball coach than any man or woman who has ever coached the sport.
This past summer, women's soccer caught the country's attention once more. The Women's World Cup in Germany provided several great moments by skilled players like Abby Wambach and Hope Solo.
Women are also slowly breaking into some boys-club sports as well. Danica Patrick is only the fourth woman to race in the Daytona 500 and the first woman driver since Shawna Robinson ran the race in 2002. Patrick is the only woman to win a race in the Indy Car Race Series. She won the Indy Japan 300 in 2008, and her third-place 2009 Indianapolis 500 finish is the highest ever by a woman.
Since the passage of Title IX, women's sports broadcasting has gained momentum. Seeing women on TV engaged in sports is no longer relegated to Olympic years, gymnastics or figure skating. Now, networks show every game of the Women's NCAA basketball tournament and the Women's World Cup. Women started the WNBA in 1997, and it's still going strong 15 years later.
As the Nike commercial pointed out, women playing sports is not all about accomplishments on the field. Recent studies from such prestigious institutions as the University of Pennsylvania's Wharton School of Business show that girls who play high school sports are 20 percent more likely to graduate and 20 percent more likely to go on to college. Other studies show that girls who play sports have more self-esteem, earn higher grades and are less likely to become teen mothers. Girls are also less likely to become obese later in life if they play sports.
As women have become a bigger part of the sports world, studies show their participation helps women in the business world. Female athletes succeed in business and are more likely to be hired later in life than their non-sports playing counterparts.
Women who played sports are in the boardrooms and succeeding at the top of thriving companies. One of the best examples is Kraft CEO Irene Rosenfeld, who played sports in high school and at Cornell University.
I'd be crazy to say that sports will solve every problem for women, but it has helped open doors previously closed to them. Title IX has had a major impact on leveling the playing field for America's girls and women.
Follow Bryan Flynn at http://www.jfpsports.com, Facebook and @jfpsports.