Wednesday, March 14, 2012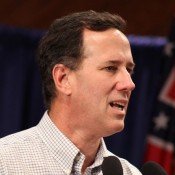 Rick Santorum won a close race in yesterday's primary, with the other two Republican presidential candidates falling behind him by only a few thousand votes.
Unofficial results reported by the Associated Press show the former senator from Pennsylvania with 33 percent of the vote, followed by former House Speaker Newt Gingrich with 31 percent. Former Massachusetts Gov. Mitt Romney received 30 percent of the vote, but was only about 7,000 votes behind Santorum.
Rep. Ron Paul of Texas received 4 percent of the votes. Mississippi's delegates will be almost evenly split between the top-three candidates.
In the congressional primary races, Rep. Bennie Thompson defeated former Greenville Mayor Heather McTeer in the District 2 Democratic primary with 87 percent of the vote. In the races for Senate, Albert Gore won the Democratic primary, and incumbent Roger Wicker held onto his spot on the Republican ticket.
See photos of the top Republican presidential candidates campaigning in Jackson in our photo gallery.
Legacy Comments
Statement from Heather McTeer, verbatim: First, I thank God for giving me the courage to step into this race. We all know the problems of the 2nd District and those have not changed. For that reason, my faith has not wavered, my resolve is still strong and I am still smiling. I would like to thank all my supporters who along this journey shared our vision for a better district. We touched people who long for better schools, child care, and technology for our communities and opportunities for a better life. We ran a race to give the voters an option between leadership with vision and doing the same thing over and over again. The people have spoken. Clearly, our work is not done. I will continue to fight for the second congressional district and a vision of how we must build a better 2nd district, one family at a time. Please continue to watch heathermcteer.com for further developments. I thank all of my supporters who rallied for historic changes and positive choices in the 2nd district. We can do better. We must do better and I am committed to being an agent for that change. Heather McTeer (D-2nd) US House of Representatives Candidate 2nd congressional District
2012-03-14T10:14:11-06:00
The US House 2nd District Dem. primary race was a shame. Not to Say that McTeer should have won, but the issues she raised should have made for a closer race. It shows that there is a need to change the electorate, both in who votes and why they vote. Too many people vote against their own interests in MS, but especially those in the more poor/rural communities. There needs to be massive voter motivation and education drives, not just around election time, but throughout the year, so as to help get more people involved in their own political, economic, and social destiny.
2012-03-15T07:44:07-06:00