Wednesday, March 21, 2012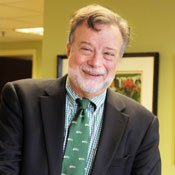 North Carolina native David Waugh, 62, lived in New York City for 15 years before he met his soon-to-be-wife, Jane Sanders, and moved to Jackson in 2007.
Waugh, a pastor at Madison Chapel, is the president of the Fondren Association of Businesses, known as FAB, and is the executive recruiter of Professional Staffing Group.
A combination of his wife, the co-founder of Professional Staffing Group, and the community of people in Fondren made Waugh decide to become a leader in Jackson's funkiest neighborhood.
What drew you to Fondren?
This is my wife's company. And it's where her company's located. ... (But) if her company wasn't here, Fondren is the closest thing to the funkiness and fineness of the beat, the vibe, the political-social consciousness that I was used to in New York. Downtown is beginning to be revitalized and have some creatives move into it, but Fondren is the place that has the heartbeat that I was used to, be it from Vermont to Rhode Island to New York. It's a community that's got a center to it, a heart to it.
It has enough diversity that makes it fun—young and old, gay and straight, black and white—it's not as diverse as I'd like for it to be, but for Mississippi, it's mighty fine.
What has FAB had to do to prepare for the Zippity Doo Dah Parade?
When the (Fondren) Renaissance Foundation hired (a director) in December, it became quickly apparent that we needed to have an organization that had liability coverage (for the parade), and FAB doesn't. FAB can't afford that—it's about $1,000, and we've got a $6,000 budget. So we passed the sponsorship from FAB to FRF. And because we discovered the first year how much work was involved. This year, FAB seeks to operate as a sister in a fraternal relationship.
So FAB really has not had to do a lot of planning this year. ... What FAB has to do is get our merchants behind it.
What will be different this year?
This time, to get folks moving, all day on Saturday, as well as during Arts, Eats and Beats (Thursday night), we will have non-simultaneous events occurring. So everyone is not having a band at 1 o'clock on Saturday. At 1 o'clock on Saturday, you're going to have something going on over at Brent's and McDade's. At 3 o'clock, around the corner at Cups and circa., Pam Confer and band will be doing jazz. At 4 o'clock, somebody's going to be doing something over at Nick's. So it's keeping the crowd moving.
We've asked the businesses to get together in clusters and sponsor something for their cluster. So it's not one store doing it, but you're cooperatively drawing them to your location. Then once they're at your location, we hope they'll shop, or they'll know what's there.
We're also trying to get out of the mindset that this is all about shopping now. This is about helping people realize that Fondren is funky, yes. Fondren is diverse, yes. Fondren is also very fine. Right here, we've got Babalu, we've got Fatsumo, we've got Walker's, and we've got Nick's. We've got fine food all around us.
Where will parade-goers park?
Over at (Veterans Memorial Stadium); we have that lot. And then there are a couple of other lots related to churches around here that'll provide parking spaces. We're also discouraging people from parking in the central area, (if they are) just coming in for the events. There will be parking lots available for them. Proceeds from the parking costs go to Blair E. Batson (Children's Hospital). There will be shuttles to get people from those parking places.
Will people be allowed to have alcohol outside during the parade?
We say no. Open-container laws still apply. And we bill this as a family-friendly thing. Sometimes the officers choose to look the other way, but we're not encouraging them to look the other way.
We are saying 'Here are the places you can buy.' The different restaurants will have cordoned-off places around them where the permit is available. And that's where it should be. I know with the St. Paddy's parade (downtown), people just bring in coolers and just set up, but that's not legal and it's not permitted, (police look) the other way. We're encouraging that not to happen.
We're encouraging (Zippity Doo Dah) to be very family-friendly.
Visit http://www.zddparade.com for more information on Zippity Doo Dah and the various events happening around Fondren.