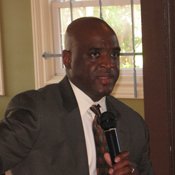 Giving minority-owned businesses contracts with large organizations helps the minority-owned businesses find more jobs and grow Jackson's business community, said Michael Thomas, vice president of finance and operations at Jackson State University.
Thomas said that when he first started working at JSU, he was surprised by how few minority contractors the school hired.
"We just don't do a lot of business with African American businesses," he said at this morning's Friday Forum at Koinonia Coffee House. People are often reluctant to do business with minority and women-owned businesses, he said, because they assume their work will be inferior--a perception that is common in both the white and black communities.
Recently, Thomas has been trying to find more opportunities at JSU for departments to hire small, local, minority- and women-owned businesses.
"You've got to give an opportunity to qualified businesses, so they can get experience," he said. Working with a large entity like JSU gives those businesses the experience they need to get other jobs.
"The reality is, they'll probably put a lot more effort into it because they know the hurdles they have to jump over are higher," Thomas said.
In turn, if JSU goes looking for local businesses to contract with, businesses will be more likely to locate in that area of town, which means more business growth and job opportunities in the area, he said.
For more information on contracting with JSU, call 601-979-0697.