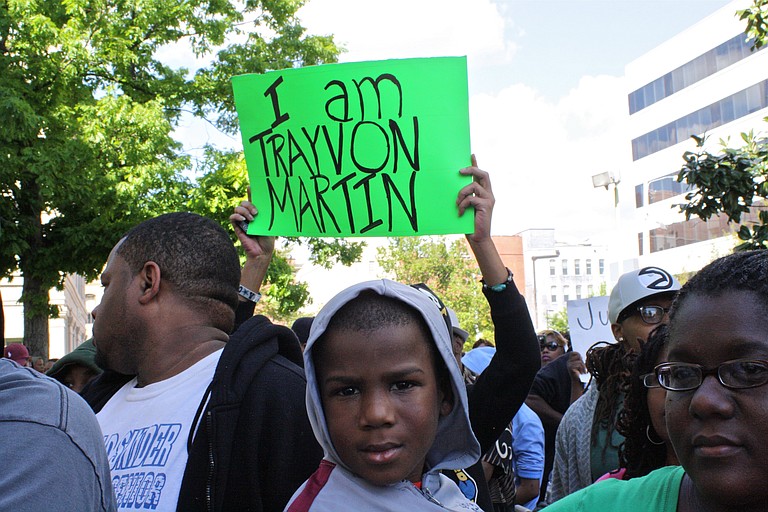 "An injustice anywhere is an injustice everywhere." The crowd of protesters cheered as Ward 6 Councilman Tony Yarber gave the tweaked quote from Dr. Martin Luther King Jr. as a rally cry on the steps of City Hall Sunday.
Hundreds of protesters gathered to rally for justice in the name of Trayvon Martin, a 17-year-old young man who was shot and killed in Sanford, Fla., by neighborhood-watch volunteer George Zimmerman Feb. 26. Zimmerman claims he shot Martin in self-defense. However, police found Martin carrying nothing more sinister than a bag of Skittles and an ice tea. Zimmerman has not been arrested.
Yarber and Jackson attorney Gerald Mumford organized Sunday's event.
"I've heard some folks ask why in the world are we dealing with stuff that's going on in Florida, in Jackson, Mississippi," Yarber said to the crowd. "'We got enough problems going on in Jackson. Why would we deal with what's going on everywhere else?' Well, to that I simply say that what's going on in Florida is a direct representation of what went on in 1955. When a young man named Emmett Till, at the age of 14 years old, did not have the opportunity to have his due process. And we are standing here in the same state that this took place in 1955, and we're saying, 'It will not happen.' Trayvon will get his due process, and we're going to be sure that we're the folks to do it."
JFP columnist Brad "Kamikaze" Franklin took over emcee duties after Yarber's opening speech. About a dozen speakers followed, including preachers, activists, student leaders from Jackson State University and Tougaloo College, and City council members LaRita Cooper-Stokes of Ward 3, and Chokwe Lumumba of Ward 2. Many speakers encouraged people in the crowd to register to vote, which they could do at a table set up on the City Hall lawn.
Protesters carried signs that read "I am Trayvon Martin" and "No Justice, No Peace," a chant that roared from the crowd more than once during the gathering. The spirits of injustice and righteous protest from Mississippi's not-so-distant past ran from the steps of City Hall and through the crowd, where most dressed in hoodies in Martin's honor despite the 80-plus degree temperatures. The young man had worn a hoodie the night Zimmerman killed him.
"We have to not only understand what is happening to us today, but we must understand the legacy of what happens to us. We must understand that what happens to us is not something that just happens in one space, but it happens everywhere. We must stand here in Jackson, Mississippi, and say this is not going to happen ever again, anymore," Lumumba said.
Lumumba ended his keynote speech by pointing to the statue of Andrew Jackson on the Congress Street side of City Hall.
"We did the right thing by mobilizing on this side of the building today. On the other side of the building is a racist statue of a man who killed Indians and who killed black people," Lumumba told the crowd. "And who became the president of the United States by killing Indians and black people. What we have to do is to start a new tradition. Let's start on the new side of the building. Let's free the land. Let's do what we have to do to get justice for Trayvon Martin. Free the land."
Yarber said he collected information on enough participants to continue to organize the call for justice for Trayvon Martin. He said he and Mumford will provide a road map for people to protest by way of social media and a letter write-in campaign.
For information contact Gerald Mumford at 601-398-2347.
Legacy Comments
The little kid pictured with the hoodie and carrying the green sign looks just like Trayvon Martin. Out of this mobilization of protesters for what appears to be a hate crime against a young Black Afraican-American male, I hope that Lumumba, Yarber, ministers and others will have some post-arrangements for what happens after the demonstrations are overs. We must teach out kids to live defensively. A hoodie, a pair of jeans, and a pair of white tennis shoes on a young white male would not have created any "suspicious" thoughts from anyone. This would have simply been a young white teen sporting a fashionable attire and taking a leisure walk through his gated community with his candy and tea; however, for Trayvon, HE was dressed to be killed. UNBELIEVABLE, BUT, TRUE! When Zimmerman was told NOT to follow TraYvon, this was the straw that broke the camel's back. At this point, it is soooo clear that Zimmerman was hell bent on flipping the script - making Trayvon the villain.
2012-03-26T17:28:37-06:00
See photos of the rally here: http://www.jacksonfreepress.com/index.php/site/video/rally_trayvon_martin_2012/
2012-03-27T12:42:35-06:00
Sorry, I must have missed something...why was there a rally for this young man who was murdered in a different state almost a month ago? But life goes on as entirely normal for the daily murders that occur here and elsewhere? Where's the outpouring of injustice and rage over the murder at MSU or JSU? Where's the call for justice for the murders in, say, Dubuque, Iowa?
2012-03-28T05:03:40-06:00
Darryl, if you haven't figured it out yet (living under a rock?) the killing of unarmed Trayvon Martin has become a national symbol of a very serious problem this country faces: the violent demonization of young black men. People in Jackson held a rally like most places around the country to raise awareness about this very serious problem. And as I understand it, speakers did talk about the violence happening here in Jackson as well. If you pay attention to many of the African Americans becoming engaged by Trayvon's murder, such as in social media, you will also see people talking about the need to speak out more about all kinds of violence, including black-on-black crime. It's happening. Meantime, why sit there at your computer and complain about a rally not being held against something bothers you?! Get off you petoukas (sp?) and call one and get everyone you know there. That is, take positive actions rather than complaining about those who did. THAT would impress people.
2012-03-28T10:34:49-06:00
Yes, @Darryl, a vigil for JSU student Nolan Ryan Henderson was held earlier this week (http://www.jacksonfreepress.com/index.php/site/gallery/?id=146) and there was a rally for him this morning that we'll report on shortly. Please let us know when you organize a rally in Jackson for the MSU student who was killed; we'd very much like to cover it.
2012-03-28T10:36:43-06:00