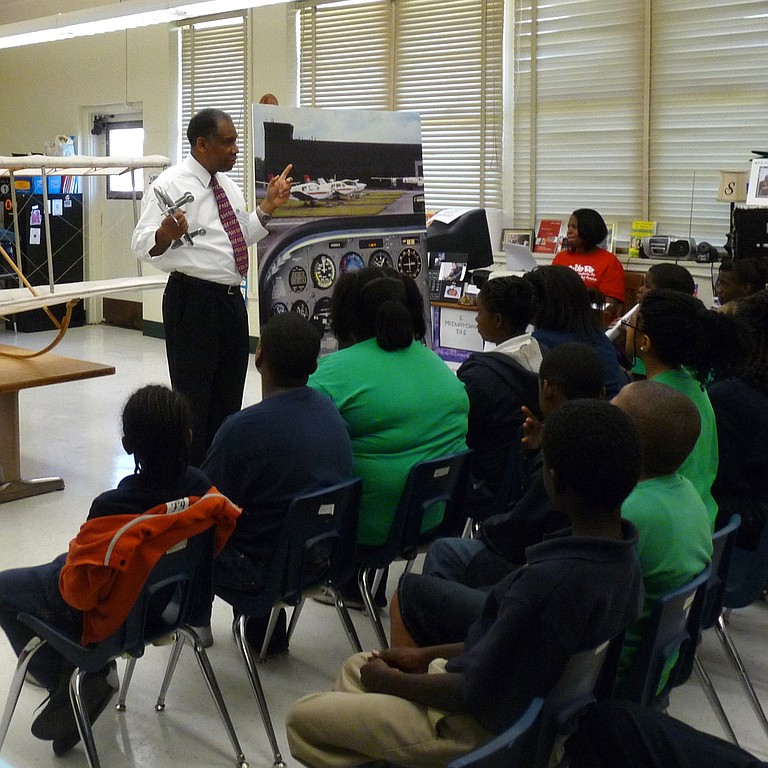 At Walton Elementary School on a Friday afternoon, students in one of the classrooms sat on the floor, rapt attention focused on one of their classmates who was sitting on a replica space toilet. Outside in the parking lot, another student sat in a miniature space shuttle cockpit, which lurched side-to-side as he steered it.
The students had lots of questions about the space toilet, which had a Velcro attachment to hold down a cell phone and a seat belt to hold down a would-be astronaut in zero-gravity space.
"One thing you don't want to do is float off the toilet bowl," Ivor Dawson explained.
Walton Elementary was the third stop for the Traveling Space Museum in Jackson last week. About 2,000 Jackson Public Schools students participated in the events, where they drove a model lunar rover, sat in a replica of the toilets astronauts use in space or slid across the floor on a hovercraft powered by leaf blowers.
Dawson, founder and president of the museum, said he got the idea for the Traveling Space Museum while working at a space museum in a shopping mall in California.
"One teacher said to me, 'For every bus load of students I bring in, I'm leaving four or five behind. If you brought the museum to the students, they could spend more time learning,'" Dawson said.
He started Traveling Space Museum in 1998, using a few Hollywood props. Since then, he's taken it to about 500,000 students in 30 states. Next year, he wants to add a space-food demonstration to the 13 exhibits he already has.
The museum is especially useful in isolated areas with few museums close enough for field trips.
"Kids everywhere are the same--they thirst for this knowledge," Dawson said.
In addition to the Space Museum, students saw a National Guard helicopter, dogs from the police department's K-9 unit and a fire truck.
Pamala Heard, director of the NASA Educator Resource Center at Jackson State University, arranged for the museum to come to Jackson in the hopes that more students will become interested in science, technology, engineering and mathematics--the STEM disciplines.
"We try to expose them to stuff that they might read in a book," she said. Even students who do not go on to major in science benefit from knowing about different fields they can study and seeing that their dream jobs can become reality, she said.
For information on the Traveling Space Museum, contact Ivor Dawson at 323-903-5259.