Wednesday, March 28, 2012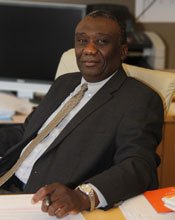 Tam Curley
Mahmoud A. Manzoul always wanted to be a teacher. "When I came to the U.S., I went for my master's and Ph.D. so I could teach," he says.
Manzoul, 58, was born in Omdurman, Sudan. In high school, he was good in math and science. He had a relative who worked in engineering, and Manzoul decided to go to college to study the same thing.
He received his bachelor's degree in electrical engineering from the University of Khartoum, Sudan, and his master's degree and doctorate in the same subject from West Virginia University.
Jackson State University used some of its money from the Ayers desegregation settlement for its computer and civil-engineering programs. In 2001, the school hired Manzoul as the founding chair of the Department of Computer Engineering.
Manzoul developed two undergraduate programs: computer engineering and telecommunications engineering.
"Computer engineering is growing, because now computers are used all over, everything we do, we use computers. ... Computers are embedded in everything," Manzoul says.
In 2008, the university used some of the Ayres funds to complete a 90,000-square-foot engineering building. It offers a master's program in computer engineering with four different focuses: computer, computational, electrical or telecommunications engineering. Beginning next fall, Jackson State will offer a bachelor's program in electrical engineering.
As department chair, Manzoul is responsible for developing the curriculum, teaching, and recruiting students and faculty. In 2009, he received a grant for $500,000 from Entergy. Most of the money will go toward a new lab, and $100,000 will fund student scholarships.
Manzoul's vision is to increase enrollment in telecommunications engineering. "Telecommunications engineering is a unique program with only two accredited and graduate programs of its kind in the nation--one at Jackson State University and the other at the University of Texas at Dallas," Manzoul says.
Companies like Comcast, T-Mobile, Verizon, DIRECTV and AT&T have jobs to fill, and Manzoul is helping JSU recruit students for the field. JSU offers a summer program for students who plan to attend the university and major in engineering.
Before joining JSU, Manzoul taught for 15 years at Southern Illinois University in Carbondale. He is married to Einas S. Kamil-Omer and has four sons. Saad, the oldest, is an physician who lives in Washington, D.C. Waleed has a master's degree in computer science and works in software development in New York City. Khalid, 16, is in the 10th grade, and Imad, 10, is in the 4th grade.