Wednesday, March 28, 2012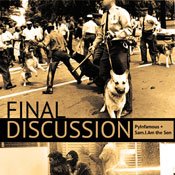 Jackson hip-hop artist Jason "PyInfamous" Thompson, who last year won the Coors Light Search for the Coldest MC award through a nationwide vote, just released a new record March 30. "Final Discussion" is the last part of a trilogy of albums PyInfamous has recorded with Rochester, N.Y., producer Sam.I.Am. This is probably Py's best work yet (and that is a bold statement). In advance of the release, I caught up with him to discuss the new project.
1 How does "Final Discussion" fit in with the rest of the series? What does it bring new to the equation?
"Final Discussion" is the final installment in the "Discussion" series that Sam and I have been working on for the past four or five years. For those listeners and fans who have followed the series, a significant amount of growth and depth will be evident on this project.
"Intelligent Discussion" had a bit of diversity, and "Extended Discussion" was a fairly mellow record. "Final Discussion" reflects the emotional and musical landscape of everyday people. There are some mellow grooves, and there are some high-energy records that I think give a complete picture of who I am as an artist and the complexity of people in general.
2 What's it like working with Sam?
Sam.I.Am the Son. That's my guy. Extremely dope producer. He channels J Dilla in that he isn't afraid to explore all genres and types of music to make music. You can never tell what he's going to pull out next. His basement is like a record-archive library or something. He's a genuine vinyl junkie.
Sam has continued to grow as a producer and has really begun to help sculpt music rather than just making beats. We made it a point to be sure that we were in the studio together to record this project, because we wanted the energy and synergy to be palpable for everyone who listens, and I think we were able to achieve that.
3 What is your favorite track on the album?
My favorite record on the album would have to be "Praise." Sam crafted a jewel of a beat, and it allowed me to share more of my spiritual side with the fans, which is important to me. I hope this record has the most impact on fans, because more than any other issue I talk about in music or day-to-day, spirituality—the tenets and beliefs that guide our daily lives and connect us to people—is critical.
4 What is coming up next?
I'm sure Sam and I will be working on something new pretty soon. We'll just have to come up with a new name! For the next few months, my plan is to get out on the road as much as possible and get folks to hear the music. Connecting to fans throughout the southeast and the country is very important, since this is the first new project in a while.
This year, I'm also trying to get a lot of the music out that I've been holding on to, so I'll be dropping "Great Minds Think Alike," produced by Colin Dunbar, in conjunction with thewordisbond.com. That's the record "Bliss" is from—the winning song for the Coors Light Search for the Coldest MC competition.
After six years in the making, Demo Beatz and I will be releasing "The Exception." Hopefully, we'll get that out by the third quarter, and I'm working on "The Struggle Has Just Begun Part II" with Bros. Wilson, which will drop in the second half of the year.
I want to thank everyone in Jackson and throughout the state, region and country for all of the support you have shown over the years. I will continue to create dope music for you.
The release party for PyInfamous' new album is at 9 p.m. March 30 at Suite 106 (106 Wilmington St., 601-940-7059). $10 admission comes with a CD. Go to iTunes or Amazon.com to download "Final Discussion." You can also purchase a physical copy and stay up to date with Py's new music at http://www.pyinfamous.com.