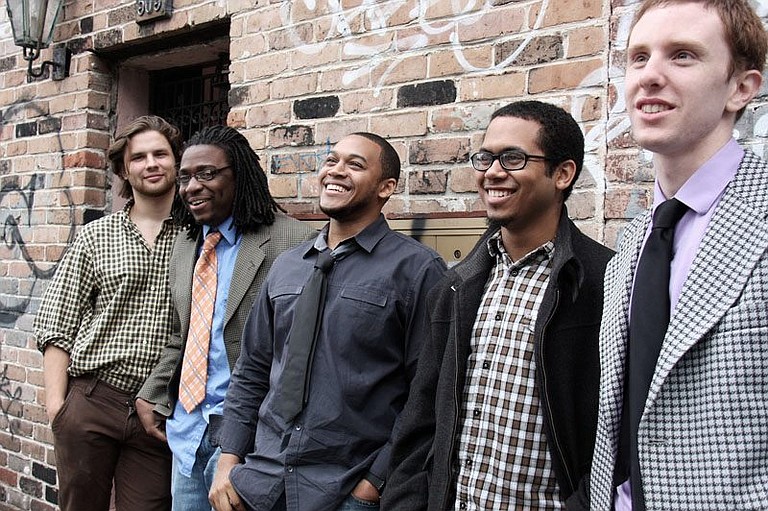 Wednesday, February 13, 2013
Percussionist and Jackson native Darrian Douglas is a brilliant example of arts education in action. Since his high-school years at the Academic and Performing Arts Complex and study under Dr. Perry Combs at APAC, Douglas has turned his youthful aspirations and talent into a promising profession. At age 28, his creds include four years with the Ellis Marsalis Quartet, three years at the Jazz Ascona Festival in Switzerland with the ReGeneration Brass Band and, most recently, recording with his equally talented band mates in their New Orleans-based jazz quintet, The Session.
"I've been lucky," he says, "and my mom prays a lot."
He's not shy about conveying respect for the band mates he has been playing with for about two years in The Session.
"Sometimes, we're billed as Darrian Douglas and The Session, but it's not really like that," Douglas says. "It's a group effort--we all write the songs."
The Session includes: Berklee School of Music graduate James Partridge on tenor sax; New Orleans Center for the Creative Arts and SUNY Stony Brook graduate Andrew McGowan on piano; New Orleans University graduate Jason Weaver on stand-up bass; and Delfaeyo Marsalis Uptown Jazz Orchestra member Stephen Lands on trumpet.
Like many industrious artists and musicians these days, The Session's band members often use the Internet and social media to connect with fans. They used kickstarter.com, a funding platform for creative projects, to raise $5,000 to record the group's debut album. The band made the most of its fundraising effort.
The album, "This is Who We Are," is representative of the band's collaborative spirit, but each member gets his chance to shine. It features nine original songs and a cover of trumpeter Stephen Land's fresh arrangement of the 1944 jazz standard, "Moonlight in Vermont."
"We try to work together as much as possible," Douglas says. "Everyone has at least one song that they wrote on the album."
Listening to "This Is Who We Are" is an expansive experience, one of those moments when reincarnation seems like the only explanation for such mature and nuanced talent housed in such youthful forms. The longest cut, "Of Two Minds," starts out smooth and elegant, then takes the listener on a journey that showcases each musician and each instrument. The journey culminates in a barely managed breakout where sound and instruments push and pull, clash and collide, but ultimately converge, returning to the familiarity of the beginning theme with a few taut embellishments.
"The album isn't 'mad jazz.' It's chill. It's accessible," Douglas says. "We try not to forget that we're entertainment, but we also want to express ourselves and not be limited."
This month, The Session kicks off a short regional tour beginning with a CD release party for "This Is Who We Are" in Jackson. Then the band plays in Hattiesburg and gives a master's class at the University of Southern Mississippi. Also, look for The Session at the New Orleans Jazz and Heritage Festival in April.
Darrian Douglas and The Session will perform at Yellow Scarf Listening Room (741 Harris St., Suite E, 347-754-0668) Feb. 15 and 16 at 8 p.m. Tickets: $20 advance, $25 at the door, $5 with student ID. For tickets and more information, visit yellowscarf.ojahmediagroup.com.