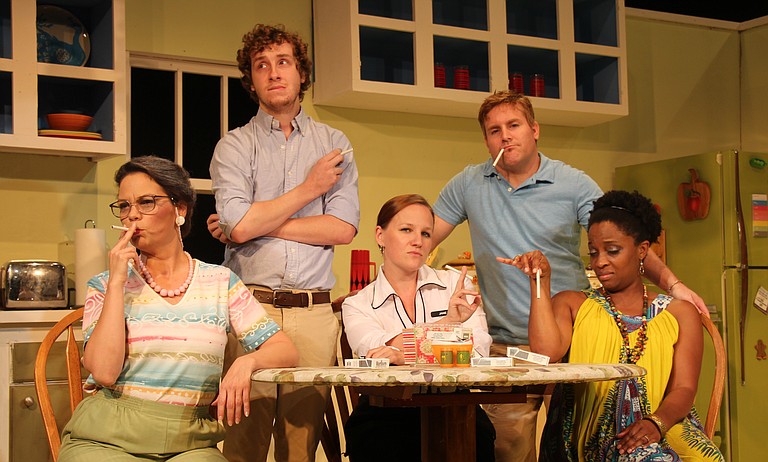 What do two high-school teachers, a Crossfit trainer and a worker from Hederman Brothers Printing have in common? If you guessed they spend the evening pretending to be someone else, you're right.
These members of Fondren Theatre Workshop shrug off their day jobs and take over New Stage Theatre's Warehouse Theatre for "See Jane Quit."
Fondren Theatre Workshop was the first company to produce at the Warehouse Theatre.
"In fact, when New Stage was thinking about buying the space, Francine (Thomas Reynolds) called and asked me, 'If we buy this thing, would y'all be interested in renting it once in a while?'" says Diana Howell, one of 
FTW's directors.
Needless to say, the answer was yes. FTW's first production at the Warehouse, in August 2011, was Steven Sondheim's "Assassins." Later that year the group also produced "The Monster Monologues" and "Every Christmas Story Ever Told (And then Some)" at the Warehouse.
"We usually produce three plays a year," Howell says. "The board gets together a few times a year to figure out who has a passion for what. The best productions are always the shows someone has a passion for."
This summer, FTW is producing "See Jane Quit," a raucous new comedy by longtime Workshop member, Beth Kander. Originally from Michigan, Kander attended the FTW's first informational meeting in 2003. When she came to Jackson, she interned at The Institute for Southern Jewish Life. Eventually, she returned to Michigan, got her master's degree in social work, then made her way back to Jackson and her cohorts at Fondren Theatre Workshop.
As the title suggests, "See Jane Quit" centers on a 30-something waitress who is trying to quit smoking. Jane, played by feisty Malaika Quarterman, a teacher at Power APAC, has a secret reason for giving up her bad habit. Her prim and proper Grandma Bessie and her sister in-law, Diane, take turns prodding or protecting her from their own life-changing secrets.
Juniper Wallace, a teacher at Northwest Rankin High School, portrays Grandma Bessie with wit and wry humor. Meanwhile, Deja Abdul-Haqq, a project manager for the youth-centered non-profit organization Project CHANGE, renders sister-in-law Diane in full-spectrum light.
Michael Kinslow, a Crossfit coach, brings life and physicality to the part of Jane's spiritually conflicted brother James. In contrast, Matt Faries, who goes to Mississippi College, brings a lighter touch to the part of Charles, Jane's boyfriend. Tensions mount with hilarious results as everyone in the close-knit family tries to keep their secrets.
"See Jane Quit" runs July 25 to 28 and August 1 to 4 at The Warehouse Theatre (1000 Monroe St.). Shows start at 7:30 p.m. Seating is limited. For information and reservations, call 601-301-2281.
An earlier version of this story mistakenly said "The Monster Monologues" and "Every Christmas Story Ever Told (And then Some)" were not at the Warehouse Theatre. It also said Charles was Jane's brother rather than boyfriend. The Jackson Free Press apologizes for these mistakes.