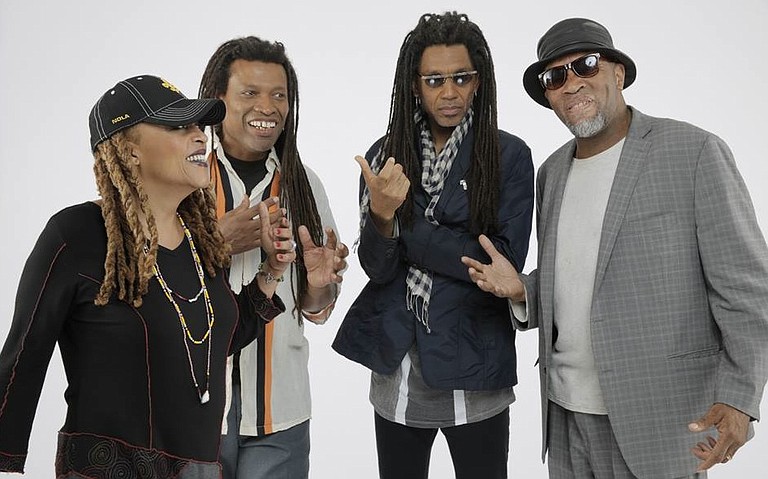 Wednesday, November 13, 2013
Even a decade into the era of the iPod and earbuds, live musical performance remains a vital, open-ear experience. When rare, hybrid musicians—whom eccentric maestros such as Henry Threadgill and Don Pullen schooled—come together and perform, something unusual is bound to happen. The cross-pollination produces new sounds, songs and musical vocabulary.
Black Sun, a collective formed in January 2013, includes Cassandra Wilson and the members of New York City trio Harriet Tubman—guitarist Brandon Ross, percussionist J. T. Lewis and bassist Melvin Gibbs. With Henry Threadgill as the through-line that connects the group, its collective resume is impressive.
Wilson is a Grammy-winning vocalist and songwriter from Jackson. Ross has worked with Wilson and other industry names, including the Lounge Lizards, Don Pullen and Arrested Development. Lewis played with rock legend Lou Reed for five years and had an extended gig with Pullen. Gibbs, a founding member of Defunkt, has worked with Arto Lindsay and the Rollins Band.
Black Sun radiated with collective energy during a three-week long European tour that began in Istanbul. YouTube videos of their performance in Paris include an intriguing mix of songs with influences from The Beatles to Billie Holiday to Negro spirituals.
Equality is the starting point for how the collective approaches these songs and creates new arrangements.
"There's no musical apartheid going on in the this collective," Ross says. "It's just open; there's no judgment or hierarchy. The question is—can you hear it, is there a way into this song?"
For example, Ross and Gibbs might think Wilson would sound great singing a certain song, but if she can't connect with the lyrics the way she needs to in order to fully express the song, the group will shelve the tune.
One such song is a juicy version of John Lennon's 1966 classic, "Tomorrow Never Knows." Ross and Gibbs thought the song would work for Wilson in her solo group, but it didn't come to light until Black Sun.
"I can hear Cassandra singing a lot of songs." Ross says. "I've recognized that she comes to it in her own time and way, so she can really own it with a new read and new meaning."
The group also performs a masterful rendition of the gripping, visual poem-song, "Strange Fruit" by Abel Meeropol. Many artists have updated the heart-breaking piece about lynching, which is best known as a Billie Holiday classic recorded in 1939.
Black Sun's "Strange Fruit" is a minimal composition of silences and accents that contrast Wilson's rich vocalization. As Gibbs, Ross and Lewis weave a backdrop of plucked bass, twangs and tweaks of amplified banjo, and sticks rapping the metal rims of the drum kit, Wilson's voice summons the past and elucidates.
Black Sun's song choices, The Beatles included, convey their collective insight as musicians and human beings. The group's music is a form of tribute, a way to honor and acknowledge the members' mostly untraceable ancestry.
"The music is really our only remembrance," Wilson explains. "We can't go to a family tree and say, 'My great-great-grandfather came from blank, and he was a blank.' We can't fill in the blanks. The only thing we have is the music."
Black Sun performs at 9 p.m. Nov. 15 and 16 at Yellow Scarf Listening Room (741 Harris St). Admission is $30 in advance and $35 at the door. Visit yellowscarf.ojahmediagroup.com.