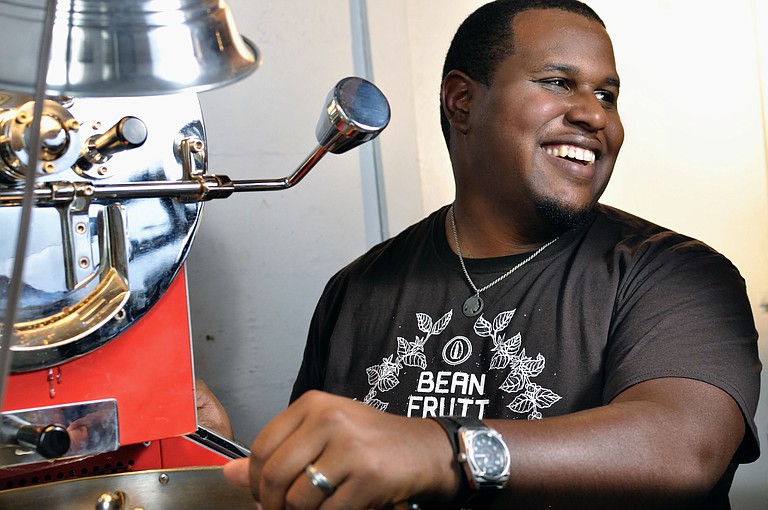 Wednesday, November 13, 2013
Until five years ago, Paul Bonds, 30, didn't drink coffee—he thought it was just Folgers with cream and sugar.
"One day, I had a chance to try a really nice coffee, and it changed my whole mindset," Bonds says. "The turning point was a cup of Ethiopian from Mississippi Coffee Roasters."
Bonds began researching the magical bean. A Mississippi College alumnus with a degree in business administration, Bonds studied where coffee came from, how it grew and who picked the beans. Through his research, he learned a few hard truths.
"Behind oil and petroleum products, coffee is the second-highest traded commodity in the world," Bonds says. "But unlike the oil-producing countries, the countries that produce coffee are often desolate. Most farmers aren't able to support their families. When I learned about that, it really bugged me."
In the meantime, Bonds started buying green coffee beans and roasting them at home. After a year or so of research and experimentation, his hobby had turned into a passion. In 2010, he decided to go into the coffee business, keeping the coffee farmer in mind.
Like the coffee plant itself, which takes two to three years to bear fruit, Bonds' BeanFruit Coffee is thriving now, expanding from a micro-enterprise into a small business. In August 2013, Sneaky Beans' barista Kevin Smith joined Bonds' endeavor, bringing his own passion and expertise to the business as brew specialist.
"Paul would come to the shop in the afternoons," Smith says. "I started noticing how nerdy we would get talking about coffee, on par with comic books and fantasy fiction."
As a brew specialist, Smith spends time doing his own research and experimentation. Like a coffee chemist, he discovers the best coffee-to-water ratios for the different varieties BeanFruit offers. "As a result of all the research, I've seen the transition from where I thought I was making good coffee to where I know I can make good coffee," Smith says.
Bonds will be the first to say Smith is helping him take his business to the next level. In addition to brewing, he helps at the shop by bagging and making deliveries, which gives Bonds more time to find quality beans and roast them to their best flavor.
Fair Trade Certification requires that BeanFruit's coffees are vetted to assure that the farmer receives a fair price. Bonds purchases coffee through a number of trusted sources, such as Thrive Farmers Coffee (thrivefarmers.com), an organization that connects farmers with coffee wholesalers and retailers. The Thrive Farmer model circumvents the importers, exporters and brokers so a greater portion of the proceeds go back to the farmer and farm.
BeanFruit's newest offering is called "Grecia." Purchased through Thrive Farmers Coffee, the beans come from the western region of Costa Rica, grown on a 24-acre farm owned and managed by Oscar Oviedo and his son Marcos.
BeanFruit Coffee is available by the cup at Sneaky Beans and Parlor Market, to name a few. Visit beanfruit.com for more information.