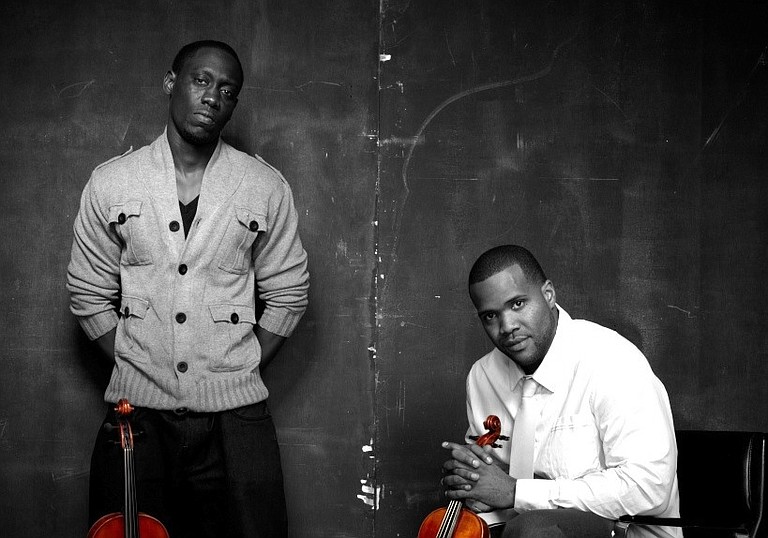 Wednesday, September 25, 2013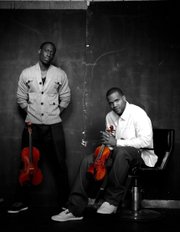 When school and orchestra rehearsals were over, Wilner "Wil B." Baptiste and Kevin "Kev Marcus" Sylvester would put away their sheet music and listen to Tupac, reggae or whatever was popular on the radio at the time. Unlike most of their Fort Lauderdale, Fla., high school classmates, they didn't just sit back and listen, though. Baptiste and Sylvester opened their viola cases, tightened their bows and played along.
Those early improvisational jam sessions—spurred by the restless energy of two teenagers dreaming of making a mark on the world—were the beginning of the genre-defying string duo, Black Violin.
"The whole merger of classical meets hip-hop is something we've always done," Baptiste says. "It was natural for us to put the two together. We were part of both worlds-—it was seamless."
After high school, both went to college on music scholarships: Baptiste attended Florida State University, and Sylvester went to Florida International University. Eventually, they met up again, this time in Miama, Fla., where they worked with other musicians and artists. The duo began improvising on top of hip-hop tracks, but something was missing.
Baptiste and Sylvester flipped a coin to decide who would give up viola and switch to violin. Sylvester lost.
"After college, we realized the need for musical balance. A soprano and an alto is better than two altos," Sylvester says.
Their first big break was in 2005. After submitting a video a year or so earlier, Black Violin was invited to perform Showtime at the Apollo at Harlem's Apollo Theater. Believing in their music, they prepared and headed to New York.
"We grew up watching Apollo," Baptiste says. "Every time we performed, people told us we were amazing. ... We were 2005 Apollo legends."
In the years since, Black Violin has collaborated and performed with various musical artists such as Kanye West, John Legend, Aerosmith and Alicia Keys. The duo played at President Obama's 2012 Inaugural Ball, where they met the president and exchanged hugs. They performed in New York numerous times, including a sold-out run at the New Victory Theater on Broadway last year.
Black Violin released its second album, "Classically Trained," in May. Remaining outside genre specificity, Baptiste and Sylvester mix it up with a rich sampling of their talent and yogic musicality.
The collection begins with a near-gypsy "Overture" in minor tones with deep chords that warm the ear and wet the palette. By the time the third track "Virtuoso" begins, they have all the cred they need to pull off the song's simple lyrics.
The collection streams on, showing the range of their skills—their taste for numerous forms and flavors—swinging from light jazz to R&B, even a rock anthem. Listen for the pizzicato (plucked) and strummed track with vocal, a furtive and oddly satisfying track called "Interlude (Tiffany)."
Black Violin gives a master's class at noon Oct. 2 at Jackson State University (1400 John R. Lynch St., 601-979-7036) in the Rose E. McCoy Auditorium. The duo performs at 7 p.m. Oct. 3 in the auditorium. Tickets are $15 or $5 for JSU students. Visit blackviolin.net.