Wednesday, April 16, 2014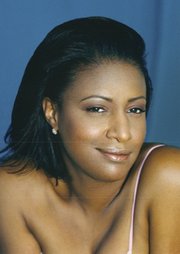 If a great song tells a story, it naturally follows that a great singer would be skilled at the art of storytelling. Writer, English teacher and jazz vocalist Vanessa Rubin is a triple-threat embodiment of the idea. With more than 30 years in the music business, Rubin has a wealth of stories and a rich, mellifluous voice to detail the telling. On April 19, Rubin will perform in Jackson as part of Yellow Scarf's two-year anniversary celebration.
Like many aspiring musicians, Rubin moved to New York City in her mid-20s after leaving her hometown of Cleveland. With a bachelor's degree in journalism from Ohio State University and a determination to become a professional jazz artist, Rubin immersed herself in the city's music scene and started making connections. To pay the bills, she taught English in the New York public-school system.
"I taught (for) a lot of years. I did it to keep a roof over my head and food in my stomach," Rubin says.
"Education allowed me to work until I could transition over into music."
The early connections Rubin made in New York paid off. Under the guidance and leadership of Barry Harris and Frank Foster at the Jazz Cultural Theater, she gained the acknowledgment of established musicians such as Grammy Award-winning free-jazz saxophonist Pharaoh Sanders, and composer and saxophonist Steve Coleman. One of her first performances in New York City was with the Pharaoh Sanders Quartet at the Village Vanguard in 1982. In 1991, Coleman helped launch her recording career.
Another New York connection—theater director Woodie King Jr.—also paid off later in Rubin's career. In 2009, King cast her in Reenie Upchurch's one-woman play called "Yesterdays: An Evening with Billie Holiday." Rubin's portrayal of Holiday earned her a nomination for the 2011 Kevin Kline Award for Outstanding Lead Actress in a Musical.
"I enjoy the role because the play is about a woman singer in the jazz idiom," Rubin says. "It tells Billie's story, which is warm, loving, humorous and tragic. Her story takes place in a very different time in America—she broke a lot of ground for the singers that came after her."
When she's not depicting Lady Day or on tour with the likes of Herbie Hancock, Rubin returns to Ohio to spend quality time with her family. On occasion, she still records music or substitute teaches.
She released her most recent album, "Full Circle," in late 2013. Rubin paired up with saxophonist Don Braden for it, and the result is a charmed concoction of great songs that tease the heart and please the ear. The duet album-conversation includes Rubin's take on Billie Holiday's "Lover Man," a clever blues number called "Love Makes the Changes" from the film, "5 Days in June," and a stellar rendition of the "Willy Wonka and the Chocolate Factory" iconic song, "Pure Imagination," with Braden playing flute.
"Don is a brilliant cat, very smart, very intelligent, and he's not bad to look at either," Rubin says with a laugh. "He's a terrific player and an accomplished individual."
"Wine, Women & Wisdom" is April 17-19, the two-year anniversary celebration at Yellow Scarf (741 Harris St., 347-754-0668). Performances include Tawanna Shaunte at 8 p.m. April 17; Rhonda Richmond at 9 p.m. April 18; and Vanessa Rubin with pianist Helen Sung at 9 p.m. April 19. Weekend tickets are $50 in advance and $60 at the door. Thursday admission is $10 in advance and $15 at the door. Friday admission is $15 in advance and $20 at the door. Saturday admission is $25 in advance and $30 at the door. For tickets, call 866-590-4647 or visit yellowscarf-jackson.net.