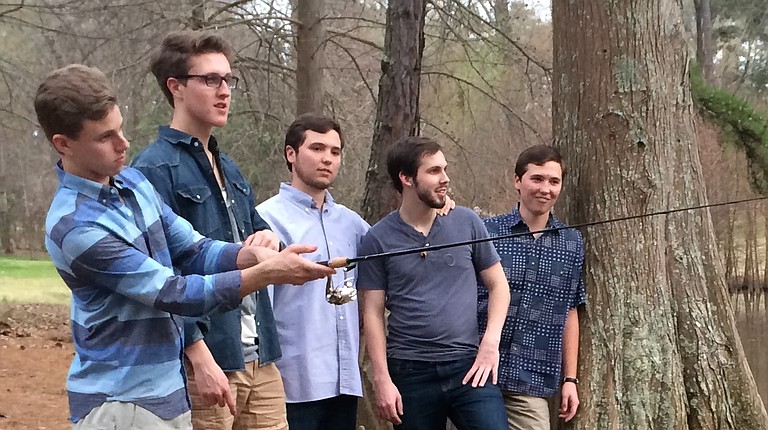 When Brennan White, Aaron Thomas and Will Jacob formed alternative-rock band Chasing Edom in 2010, they didn't expect to record the same songs four years later. After two unsuccessful attempted EPs, the band members decided to take things into their own hands. With the release of debut album "High Cotton" on July 14, Chasing Edom is feeling a little older, a little wiser and incredibly fortunate.
"A lot of the songs we've been playing for years--as long as we've been playing music," says bassist and vocalist Thomas, 19. He compared "High Cotton" to a "Best of" album, collecting Chasing Edom's favorite originals from the past four years. With nearly 30 songs completed or near completion, the band was ready to record but lacked the funds to make that happen.
Then, White's grandmother, who wanted to support her grandson's passion, gave him $5,000 of recording equipment as a graduation present shortly before she passed away.
"(She knew) we didn't have the money to go record somewhere so his grandmother blessed us with that," says drummer Jacob, 19.
With that gift came the responsibility of learning how to use it. "I'd already been recording some stuff before that, but it was do or die," says vocalist and guitarist White, 19. "Literally, if we don't learn how to record, then we don't have an album."
Chasing Edom says the trial-by-fire full-length has been its most successful release to date, capturing the band's blend of mutual influences like Coldplay and Dave Matthews Band. It also acted as a fresh starting point for Edom's newest members, 18-year-old twins Heath and Hunter Walt. The brothers joined the band around 10 months ago, with Heath playing guitar and Hunter playing both synthesizer and auxiliary percussion, including shaker and tambourine.
With CD sales underway, Chasing Edom's top priority is booking shows locally, including Back to School Fest Sunday, Aug. 10, with fellow Jackson bands The Empty Handed Painters, Simple Gulls, Empty Atlas and Confidante. Simple Gulls drummer Gene Loper organized the event, designed to be a salute to the end of summer.
Thomas hopes live shows will lead to more feedback from fans and critics alike. "With any kind of artwork you put out or do, you don't know what people think," he says. "People I've never met (before) have heard our music and loved it. If I never meet them, I won't know that people liked it."
Chasing Edom performs as part of Back to School Fest at Soul Wired Cafe (111 Millsaps Ave., 601-863-6378), Aug. 10. "High Cotton" is available now through all major digital retailers.