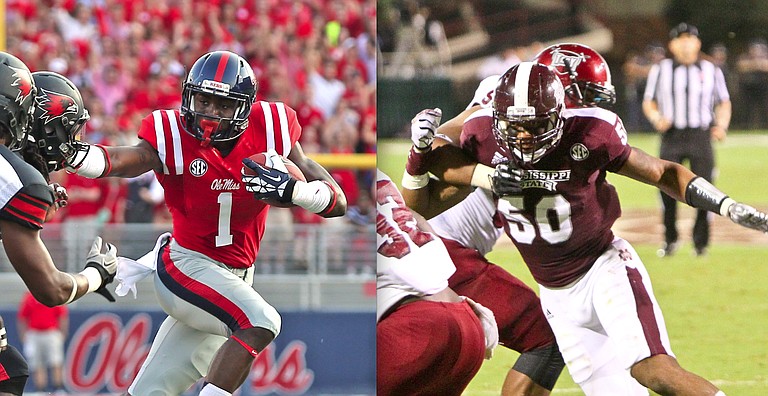 INDIANAPOLIS (AP) -- The biggest schools in college sports are about to get a chance to make their own rules. Up first is likely finding a way to spend millions of dollars in new money -- either in the form or stipends or fatter scholarships -- on athletes across the country.
The NCAA Board of Directors voted 16-2 on Thursday to approve a historic package of changes that allows the five richest football conferences -- the ACC, Big Ten, Big 12, Pac-12 and SEC -- to unilaterally change some of the rules that have applied to all Division I schools for years. The 65 universities in those leagues will also benefit from a new, weighted voting system on legislation covering the 350 schools in Division I.
"It does provide degrees of autonomy for the five high-resource conferences," said Wake Forest President Nathan Hatch, the board chairman and a key architect of the plan. "This is not complete autonomy. We're still part of Division I, but I think it allows us to provide more benefits to student-athletes."
A handful of university presidents who spoke at NCAA headquarters after the vote agreed on one thing: Paying athletes to play is off the table. And it's very unlikely that the five leagues will design their own policies when it comes to infractions.
But there's a good chance the five leagues will take steps to add money to scholarships or craft an athlete stipend intended to help cover the so-called full cost of attending college -- costs beyond tuition, room and board and books and supplies. That will be millions more in spending by leagues that are already partners in multimillion-dollar TV contracts to show off their top sports of football and basketball, raising fresh concerns about an arms race in college athletics.
It is certainly a dramatic new start for an organization that has come under increasing criticism. Already this year, the NCAA has agreed to settle two lawsuits for a combined $90 million and still awaits a judge's decision on a federal lawsuit in which plaintiffs led by Ed O'Bannon have argued college sports' amateurism rules are anti-competitive and allow the organization to operate as an illegal cartel. Also pending is a decision by the National Labor Relations Board on whether Northwestern football players can form what would be the first union for college athletes in U.S. history.
While NCAA leaders acknowledge the new system may not quash every legal case or argument, those who helped draft this proposal believe it will give prominent schools greater leeway in addressing the amateurism model and other concerns.
"I think we sometimes have to go back to why do people file lawsuits?" said Kansas State President Kirk Schulz, who worked on the plan. "It's because they can't get the action they want. It (autonomy) is going to help with some things, not all."
The power conferences contend they need more flexibility to solve the day's hottest controversies, including recruiting and health insurance, and complained long and loud over the past two years that change was critically important.
If the decision survives a 60-day override period, the transition to the new system could begin in January. Commissioners and school leaders from the power conferences have until Oct. 1 to create a wish list of areas where they want autonomy.
Any items that make the list would require majority approval from one of the five leagues and still will need the OK of at least 12 of the 20 presidents or chancellors on the expanded board of directors. Then, one representative from each of the 65 schools in the power-five leagues and three student-athletes from each conference would vote on each item. Passage would require 48 of the 80 votes and a simple majority of support from schools in at least three of the five conferences or a simple majority of all votes (41) and a simple majority from schools in four of the five leagues to pass.
NCAA President Mark Emmert also said the board could veto an autonomous rule change if it goes too far. He described that situation as "rare." The No. 1 priority heading into October is expanding scholarships to cover up to the full cost of attendance. Legislation to give athletes an additional $2,000 to cover college expenses was approved by the board in October 2011 but was overridden later after complaints from smaller schools, spurring the effort to pass the autonomy reforms.
South Carolina President Harris Pastides also said he will support limitations on practice times and contact in football workouts. UCLA Chancellor Gene Block wants to provide better counseling for athletes who are contemplating turning pro and helping those who do turn pro and later return to school. The big question now is whether another override movement could derail the changes.
If 75 schools sign the override measure, the board must take a second look at the plan. If 125 schools oppose the plan, it would be suspended until the board schedules a vote to reconsider. "I think the process has been so inclusive and thoughtful that no one will be surprised with this outcome today," Emmert said when asked if he worried about an override.
"That doesn't mean everyone agrees with it. But I think as people learn more about it, come to understand it, they will be more supportive. The more you look at it, the better it gets, I think."
The new system gives the five richest leagues nearly twice as much voting power (37.5 percent) as any other group on the new council, where most legislation will be approved or rejected. The five other Football Bowl Subdivision leagues would account for 18.8 percent while the second-tier Football Championship Subdivision and non-football playing schools would split up another 37.5 percent of the vote. Athletes and faculty will account for the rest.
Critics worry that the impact will create an even greater split between wealthy leagues and everyone else in the college athletics' arms race.
"I think it's going to be great for those five conferences and that's about it," said Gerald Gurney, president of The Drake Group, an NCAA watchdog. "I don't think it's going to be a good step for non-revenue sports or for Title IX. We are going to get into a new phase of competition, and there will be no holds barred."
Boise State President Bob Kustra, a most vocal critic, called for an override and said autonomy is a step toward professionalism.
"No president within Division I should be in favor of these changes," he said in a statement. Even some of those who helped draft the legislation, such as Rice President David Leebron, said they do worry about the widening gap between haves and have-nots. But they also want a chance to adopt some of the rules from the new NCAA power brokers, too.
"I think that's important to examine," said Wright State President David Hopkins, whose school plays in the Horizon League. "At least we want to have the opportunity to work and choose what we decide (on the autonomous issues).