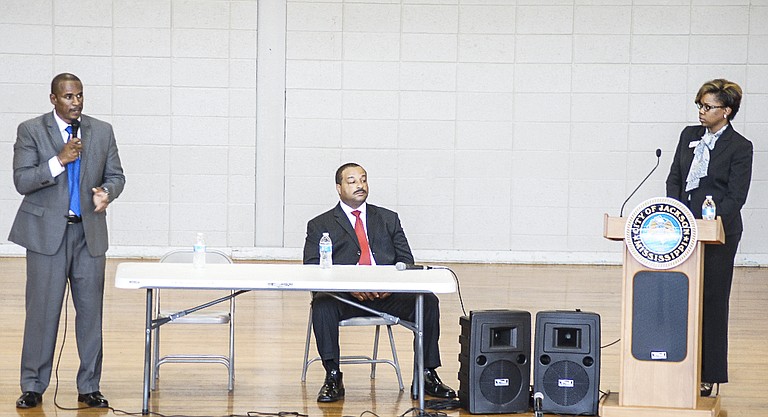 Jackson will have a new police chief by the end of the week.
In preparation for the announcement, which Mayor Tony Yarber said he expects to make in a matter of days, the city is holding a series of forums to allow citizens to weigh in on the two candidates for the job.
Lee Vance, a longtime assistant chief who currently serves as acting chief, appeared with Juan Cloy, the assistant police chief in Canton. Cloy is the former head of the police union at JPD.
On Monday, at Westside Community Center on Wiggins Road, the men talked about their approaches to crime prevention and policing. Cloy emphasized building relationships with other government agencies, including the Hinds County Sheriff's Office as well as Jackson Public Schools, which has its own police force, and the city's parks and recreation department.
Vance, who served as second-in-command to Chiefs Rebecca Coleman and, recently, Lindsey Horton, said he wanted to tackle quality-of-life issues.
"I'm tired of seeing people on County Line Road holding signs (asking for money)," Vance said.
Vance said he is wary of the panhandlers because his sister travels County Line frequently and might be called a bad word if she is asked for money and declines. Vance said he has spoken with Mayor Yarber about developing a housing program for homeless people to get them off the streets. Otherwise, Vance said he would support sending panhandlers to the Hinds County jail for up to 60 days.
"I'm as big into community policing as anyone, but some folks need to be locked up," he said.
Cloy, the former police union president, said the chief should have a good working relationship with the department's rank and file. Vance agreed and pointed out that he and other members of the command staff recently went on ride-alongs with patrol officers, where he learned valuable information.
Vance also said that as chief, he would keep a close eye on spending and end the practice of securing grants for unnecessary equipment. Once, when he was a precinct commander, Vance said that he received 30 laptop computers that were never used.
Neither Cloy nor Vance was available for media interviews. Jackson completes its search for a new chief amid the early stages of a crime prevention initiative called BRAVE that calls for a long-term police presence. So far, the program has been implemented in west Jackson. Meanwhile, police in Ferguson, Mo., have come under heavy criticism for their officer's role in the death of 18-year-old Mike Brown and the department's response to protests, which has included deploying tear gas and flash grenades and shooting protesters with rubber bullets.
Asked whether the situation in Ferguson colored his thinking on Jackson's next top cop, Yarber said Ferguson came down to lack of police training.
"In the city of Jackson, we want a police chief who can be resourceful. And not only that, but someone who can connect with the community. We don't want a situation in Jackson where our police officers are untrained, not following protocol, and they aren't able to make the best kinds decisions in a situation like that," Yarber told the Jackson Free Press.