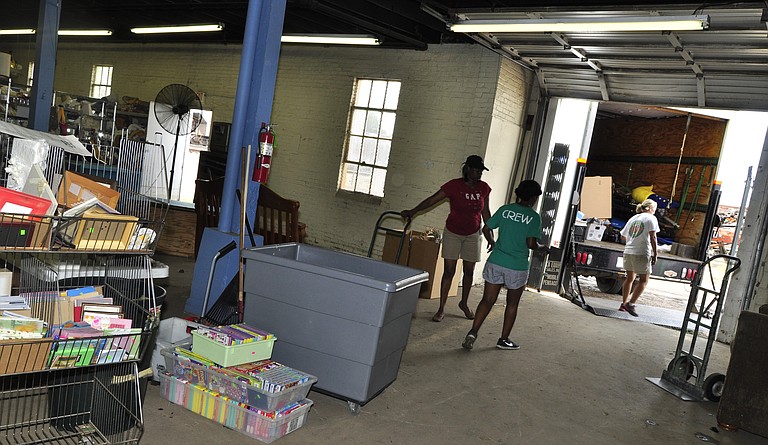 NUTS (Neat Used Things for Sale), a fundraising store for the Good Samaritan Center located at 114 Millsaps Ave., sustained massive flood damage when more than a foot and a half of water entered the store during the torrential rains last Sunday.
The store helps fund the Good Samaritan Center's programs, such as a soup kitchen in Laurel and a clothing program in Jackson. Through its food pantry, the center also provides meals to thousands of people in Jackson.
Volunteers arrived Monday to start cleanup, which included pressure washing, bleaching and cleaning a layer of silt off the store's floor. The Center is still looking for volunteers for weekend cleaning, as well as monetary donations. The store also needs new merchandise, so the center is asking Jackson residents to look through their homes for things they no longer need and donate them to replace NUTS' lost inventory.
"Hopefully, the store will be able to be opened this coming weekend, though not with a full stock," Kathy Clem, executive director of the Good Samaritan Center, said. "NUTS held a big 75-percent-off sale during the week to move inventory, and lots of people came in for it, but we still lost over $6,000 in potential sales."
For information or to volunteer, call the Good Samaritan Center at 601-355-6276 or email kathyclem@goodsamaritancenter.org.
NUTS is open Wednesday through Friday from 9:30 a.m. to 5:30 p.m. and Saturday from 10 a.m. to 4 p.m. Call the store at 601-355-7458.
New Restaurant Coming to Belhaven
In late August or early September, restaurateur Louis LaRose will open Lou's Full-Serv in Belhaven in the space that once held Basil's 904 (904-B E. Fortification St., Belhaven), next to McDade's Market. Basil's owner Nathan Glenn closed the Belhaven location in February to combine the Fondren Basil's and his other restaurant, Rooster's, in Fondren Corner (2906 N. State St.).
LaRose's restaurant will have seating for 88 people in the main dining area, 30 on the outdoor deck and 10-15 at the bar. Lou's will have 25-30 employees.
Lou's will be open for lunch and dinner Monday through Saturday and will offer casual fine dining. The lunch menu features sandwiches, salads and daily specials priced from $11-$14. Dinner includes pastas, steaks, shrimp, grilled fish and a variety of salads, all of which range in price from $17-$28.
Owner LaRose, 38, earned a degree in culinary arts from Johnson & Wales University in Miami, Fla. He has previously worked as a chef at BRAVO! Italian Restaurant & Bar (4500 Interstate 55 Frontage Road, Suite 244), chef de cuisine at Local 463 Urban Kitchen (121 Colony Crossing Way) in Madison and executive chef at the Mississippi Museum of Art (380 S. Lamar St.). LaRose's wife Victoria, who has nine years of restaurant experience, will serve as Lou's' general manager.
Kemper Plant Starts Operations on Natural Gas
A key part of Mississippi Power Co.'s $5.5 billion Kemper County power plant became operational over the weekend, with three power-generating turbines put into commercial operation burning natural gas. Mississippi Power is still working toward completing construction to enable the plant's permanent fuel source of burning lignite coal into synthetic gas.
Accounting rules require the company to start the turbines now, and doing so will allow Mississippi Power to gain tax benefits while providing power to customers, Vice President of Generation Development John Huggins told the Mississippi Business Journal.
Burning natural gas will enable the plant to send out about 700 megawatts to the grid, which will fall to 582 megawatts when the company starts using some of the power to gasify coal and extract carbon dioxide.
Company officials expect the natural gas turbines to run more often during the summer and less during times of lower power demand.
Mississippi Power Co. constructed a six-mile natural-gas pipeline to the plant at a cost of $11 million so that the company could use natural gas to test and start the turbines. The company plans to continue using natural gas to start and stop the turbines even after the plant begins manufacturing synthetic gas.
The high costs of gasifying coal and extracting chemicals have also driven up construction costs for the plant, in addition to long-running protests by the Sierra Club against coal-burning, which has delayed construction. Mississippi Power Co. insists that using coal is better, however, saying that it guarantees a low-cost fuel source not subject to market fluctuations like natural gas.
Rates for the company's more than 180,000 customers have gone up 18 percent since construction of the plant began to pay for rising costs. Company spokesman Jeff Shepard said in an email to the Mississippi Business Journal that there will be no further rate impacts from the unit starting service.