Wednesday, August 20, 2014
This year could be one of the wildest in the history of the Conerly Trophy, which goes to the best college football player in the state.
There are plenty of hopefuls, and a number could come from the University of Mississippi and Mississippi State. But plenty of players around the state will be in the mix this season and could take home the trophy.
There will not be a repeat winner. Last year's winner, Mississippi State guard Gabe Jackson, has moved on to the NFL. Jackson was the first offensive lineman to win the award.
These are my preseason favorites, all in contention for the Conerly Trophy.
Dak Prescott, quarterback, Mississippi State University
This offseason, the legend of Dak has grown as Bulldog fans have recounted his heroic Egg Bowl performance, and he is on several watch lists for awards. There was even a Dak for Heisman campaign.
The Heisman is a stretch unless Prescott has a historic season, but the Conerly is very possible. Prescott might be the best quarterback that head coach Dan Mullen has led since Tim Tebow.
Prescott completed 156 of 267 pass attempts for 1,940 yards and 10 touchdowns with just seven interceptions. He also rushed for 829 yards on 134 carries with 13 touchdowns.
Other MSU hopefuls: wide receiver Jameon Lewis, linebacker Benardrick McKinney, defensive tackle Chris Jones.
Bo Wallace, quarterback, University of Mississippi
Wallace was injured for several parts of last season, but he battled through those injuries and kept playing. The final regular-season game also ended with him fumbling to give Mississippi State the Egg Bowl win.
The Rebels will benefit from a healthy Wallace to start this season, but Mississippi will go only as far as a healthy Wallace can take them in 2014.
Last season, Wallace threw for 3,346 yards while completing 283 out of 437 attempts but also had 10 interceptions. He ran for 355 yards on 131 carries and six touchdowns.
Other Mississippi hopefuls: wide receiver Laquon Treadwell, defensive tackle Robert Nkemdiche, linebacker Denzel Nkemdiche.
LaMontiez Ivy, quarterback, Jackson State University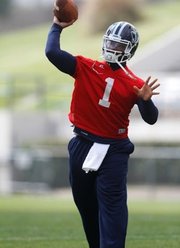 Ivy had trouble staying healthy over the past two seasons, but he was highly recruited coming out of high school. If he can keep his good health and put up numbers and wins, he will be in the mix.
Jackson State hasn't won the Conerly Trophy, but it is only a matter of time before the Tigers break through and win. There is no reason Ivy can't be that guy.
Past stats don't really make the case for Ivy because he has been unable to stay on the field. He should have plenty of chances to put up stats in the new Tigers offense under Timmy Chang.
John Gibbs, Jr., quarterback, Alcorn State University
Alcorn State hasn't had a Conerly winner, but Gibbs could change that this season. The Braves will be a contender in the SWAC this season, and wins get players noticed.
As long as Gibbs is leading the Braves to victories and gets help from the faltering players at the FBS schools, he will be an option. Anything can happen when an offensive lineman takes home the award.
Last season, Gibbs threw for 2,567 yards while completing 201 of 354 passes and throwing for 21 touchdowns. He also added 455 yards on 100 carries and adding four touchdowns.
Nick Mullens, quarterback, University of Southern Mississippi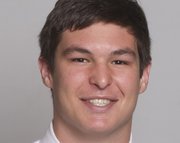 It might sound crazy to add Mullens to this list, but think about this: If USM turns things around this season, it will be in large part due to the quarterback. Southern Miss won't have a true contender for the trophy if they keep losing.
Mullens has no chance if Southern Miss can't start winning games. That is, unless he puts up historically great numbers that are impossible to gloss over even if he isn't on a winner.
While only playing in nine games last season, Mullens threw for 1,776 yards but only completed 136 of 276 passes with 13 touchdowns and 14 interceptions. In his first season, Mullens was a pocket passer not adding much threat of running.
Mike Barthelemy, running back, Millsaps College
Five schools have had players win the Conerly Trophy. While it wouldn't surprise anyone to know that USM, MSU or UM had won the award, did you know Delta State has two winners?
Did you also know that while no SWAC schools has received the Conerly Trophy, a Millsaps Major has won it? In 2008, Millsaps quarterback Juan Joseph took home the award.
The Majors could have their second Conerly winner if running back Mike Barthelemy is able to repeat or better his performance during last season. Barthelemy ran for 1,400 yards on 268 carries with 21 touchdowns. The Southern Athletic Association named him the Offensive Player of the Year.
Other Millsaps hopeful: defensive end Zach Bell.