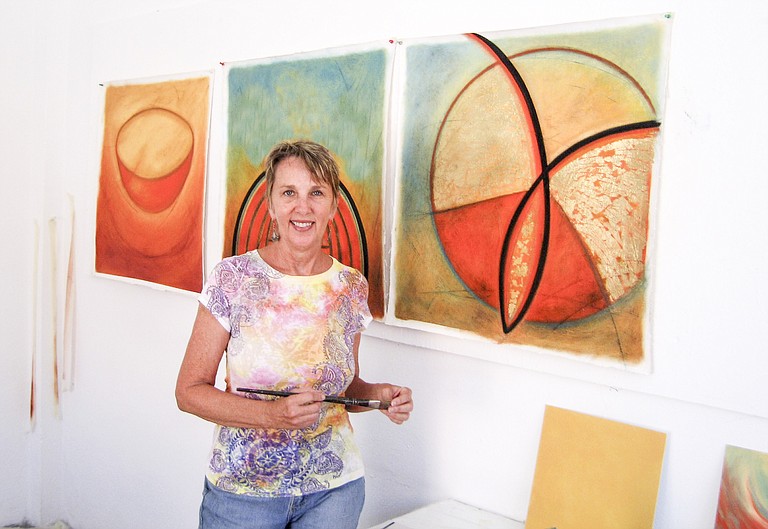 Thursday, August 21, 2014
Mississippi-born Glen Rogers is an internationally acclaimed artist who draws inspiration from ancient symbols carved on rocks and cave walls around the world to create paintings, prints, drawings and public sculptures.
"There were a few books that were pivotal to me discovering my love of ancient art, and one of those was 'Language of the Goddess' by Marija Gimbutas, a revisionist archeologist who looked at artifacts of the Neolithic era," she says. "I found out that many of the ancient societies that made these artifacts were matriarchal instead of patriarchal, and that was fascinating to me. My motivation was to go to the sites (Gimbutas) mentioned, like caves in the south of France and temples in Crete."


Rogers, 61, was born in Forest and grew up in Louisville. She lived in Mississippi until she attended the University of Florida, where she graduated with a bachelor's degree in art in 1977. She then went on to attend San Francisco State University, where she graduated with a master's 's degree in arts in 1982. Rogers spent the next 25 years in the Bay Area, during which time she received a master's degree in fine arts from San Jose University in 1992, before relocating to Mazatlan, Mexico. She has maintained her studio, Glen Rogers Studio, in the heart of Mazatlan—Mexico's historic district—since 2002.
During her time in the Bay Area and in Mexico, Rogers has always been an active participant in the local art scene. She organized Mazatlan's First Fridays Artwalk, which is currently in its 10th year. Visitors to Mazatlan can pick up maps on the first Friday of every month from November through May for self-guided tours through displays of works from local artists.
"Mazatlan doesn't have a lot of large galleries for artists," Rogers said. "The first Artwalk was just a big open studio event I put together to give local artists a place to display their work. However, the event organizers and I realized that Mazatlan is a big tourist city, so we changed the Artwalk to be monthly instead of yearly like we originally planned. Some displays are in small shops and some are in studios, but it's all local artists on display."
Rogers also runs Luna: Arte Contemporaneo, a gallery showcasing local and international artists. She teaches printmaking workshops in her Mazatlan studio and leads artist groups to Oaxaca, Guanajuato and other parts of Mexico for both art workshops and tours of local historical sites. Her Mazatlan studio specializes in monotype, a printing technique Rogers favors that makes one-of-a-kind prints by drawing or painting on special plates and transferring the image onto paper using an etching press.
The San Francisco Bay Area contains numerous examples of Rogers' public works, with the most recent installations being "Beacon" in downtown Campbell and the "Web of Life" bridge railing in the city of Chico.
Rogers' work has also been exhibited internationally in museums and galleries in the U.S., Mexico, Australia, Belgium, Singapore, Japan, Germany, Korea, and France and is included in many public and private collections. She has been awarded artist residencies at Fundacion Valparaiso, Spain; Helene Wurlitzer Foundation in Taos, N.M; Villa Montalvo in Saratoga, Ca; Frans Masereel Print Center, Belgium and KALA Institute, Berkeley.
On Thursday, Aug. 21, Rogers will be at Fischer Galleries (3100 N. State St., 601-366-8833) in Jackson exhibiting some of her prints and signing copies of her book "Art and Sacred Sites: Connecting with Spirit of Place." The signing is from 5 p.m. to 7 p.m.
"'Art and Sacred Sites' covers about 10 different sites around the world and includes photographs I've taken and artwork I've done that's inspired by those sites," Rogers said. "The book covers 20 years of my work and travels to places like Newgrange in Ireland, the Alhambra Palace in Spain, the South France caves, Uluru in Australia and Monte Alban in Mexico."
For information on Rogers' workshops, visit http://www.glenrogersart.com/ her website or email glen@glenrogersart.com.