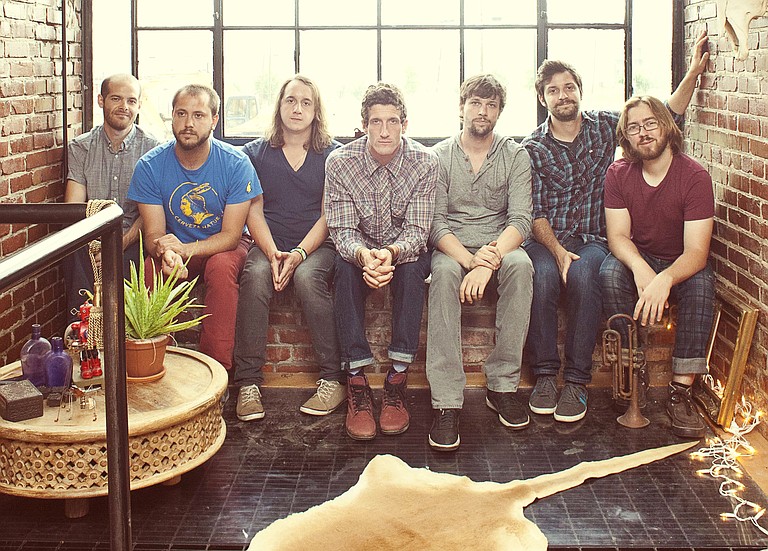 The steam-filled streets, noisy bars, and shady porches of New Orleans give rise to every conceivable sound and variation of American music. With the birthplace of jazz and blues as proving ground, a band can come up fast. If it's anything like The Revivalists, it'll get its chops down in NOLA, then hit the road to tour hard and make a name for itself in short order. Playing 150 to 200 shows each year since 2009, The Revivalists have done all that and more.
According to lore, The Revivalists came into existence by fate or pure chance. In September 2007, while on a bike ride in the Crescent City, guitarist Zack Feinberg met singer-songwriter David Shaw. A graduate of Ohio State University, Shaw had moved to NOLA the month before. Their connection was musical and immediate.
"David was sitting on his front porch, singing and playing acoustic guitar," Feinberg says, "I rode by on my bike and said, 'Hey man, you sound really good.'"
A few weeks later, Feinberg and Shaw were gigging, playing acoustic sets together. When Shaw suggested they branch out and form a band, Feinberg was ready. Drummer Andrew Campanelli was the next addition.
"I knew this drummer from the Musician's Clinic at Tipitina's," Feinberg says. "We both knew a bunch of musicians from college. Between the two of us, we put together the band."
With saxophonist Rob Ingraham, bassist George Gekas, pedal steel guitarist Ed Williams, and keyboardist and trumpeter Michael Girardot, The Revivalists is a full-on jam band, armed with a quiver of musical styles—country, straight-up funk, big rock and hip-hop—that change from song to song.
"We don't think of ourselves as playing one genre," Feinberg says. "The band is such a big group of guys. We're all pretty creative and open to many different kinds of music. We're really collaborative and naturally play a lot of different styles."
Every member of the band contributes to the songwriting process, especially if a song emerges during an improvisational jam.
"We can write a song any number of ways," Feinberg says. "If we're jamming, and we come up with something on the spot, that's one way everyone contributes. If someone has an instrumental hook, they'll bring it to the table, and we work it out. We'll take a good song any way it comes."
With Shaw, Campinelli and Feinberg penning the majority of the lyrics, The Revivalists has a growing and diverse collection of original songs, released on one EP and two LPs to date. In January, the group re-released "City of Sound," originally released in 2012, after signing with Wind-Up Records.
The re-release includes eight live tracks, adding an hour of the band in full-out jam mode. The music is reminiscent of acts such as Dave Matthews, Phish, Bruce Springsteen and shirts-off favorite, Red Hot Chili Peppers. With passion, dedication and youthful energy, The Revivalists owns the live show and sound of the moment.
"We didn't want to put out the same LP just because we're under a label," Feinberg says. "People have been asking us for a live record, so we pretty much gave them a live album for free with the repackaging."
The Revivalists performs at 8 p.m. June 6 at Duling Hall (622 Duling Ave.). The Black Cadillacs and Cardinal Sons also perform. Doors open at 7 p.m. The all-ages show is $15 in advance and $20 at the door. Those under 18 must be accompanied by an adult. Visit ardenland.net and therevivalists.com.