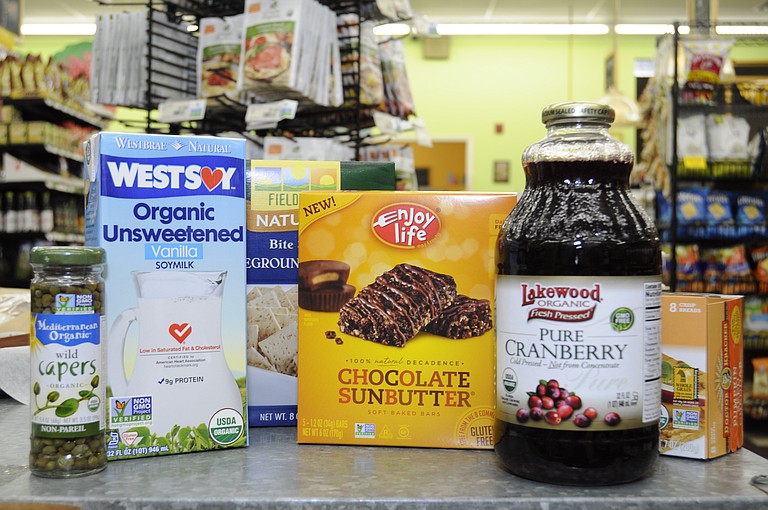 Wednesday, March 26, 2014
Genetically modified organisms really get around. GMOs in the form of corn, soy, wheat and rice—the crops most affected by genome modification to make a plant more resistant to insects or poor growing conditions—are at the center of scientific debate and legislative initiatives across the United States. At this point in time, unless you shop selectively, GMOs are likely to be at the center of your dinner plate.
"We've all been eating hundreds of pounds of this experimental food since the mid-1990s, yet polls tell us that 60 percent of Americans don't think they have ever eaten any GMOs. Another 15 percent aren't sure," says Luke Lundemo, CEO of Rainbow Co-op.
For the last four years, Rainbow has upheld a policy to keep no known GMO products on its shelves. Lundemo says the members of the co-operatively owned grocery keep the staff on their toes.
"Products are changing all the time. One big trend in the industry is for small start-up companies to be bought out by big food conglomerates who take over and mess with the formula," Lundemo explains. "We have to constantly watch for that. Every once in a while, we have removed a trusted product that we knew was safe, but then the ingredients changed."
The Mississippi campaign Say No to GMOs and Rainbow recently sponsored the GMO Grand Challenge, an educational initiative to raise awareness about the prevalence of GMOs and the potential health and environmental risks of eating GMO food products. Some of those risks include increased food allergies, digestive issues, links to cancers and ingesting pesticides, according to the Institute for Responsible Technology. Building off the success of Rainbow's Food Revolution contest last year, the GMO Grand Challenge doubled the first-place cash prize to $1,000.
"To up the ante and hopefully get more people involved, we decided to offer a larger cash prize than last year and to involve more businesses and, hopefully, more of the community," Lundemo says.
The GMO Grand Challenge culminated in a 60-question, multiple-choice test held at Duling Hall March 16. To prepare for the test, the organizers gave participants a CD of interviews from the GMO Mini-Summit in October 2013. John Robbins, the author of "Diet for a New America" (H. J. Kramer/New World Library, 25th Anniversary Edition, 2012, $18.95), and food advocate Jeffrey Smith hosted the summit of experts, interviewing each for 20 to 40 minutes.
"The interviews are with scientists, doctors, educators and agricultural experts—anyone who listens is going to get an incredible education about our modern food system, government regulatory agencies and how food and health science is carried out," Lundemo says.
With permission, the GMO Grand Challenge organizers recorded and duplicated the collected interviews, creating a free study guide for participants as well as for the general public. In preparation for the challenge, they distributed about 350 CDs.
Although turnout for the test event was lower than desired, Lundemo looks on the bright side.
"The test was really difficult, but all the 30 or so participants worked very hard," he says. "Most of them won a prize because there were nearly as many prizes as there were participants. Almost everyone was a winner."
Congratulations go to Matt Smith, who won the Grand Challenge's $1,000 cash prize. Smith scored 39 out of 60 questions.
For more information about the GMO Summit, visit gmosummit.net. For more about Rainbow Co-Op, or to purchase a Say No to GMOs T-shirt, visit Facebook.com/rainbowcoop.