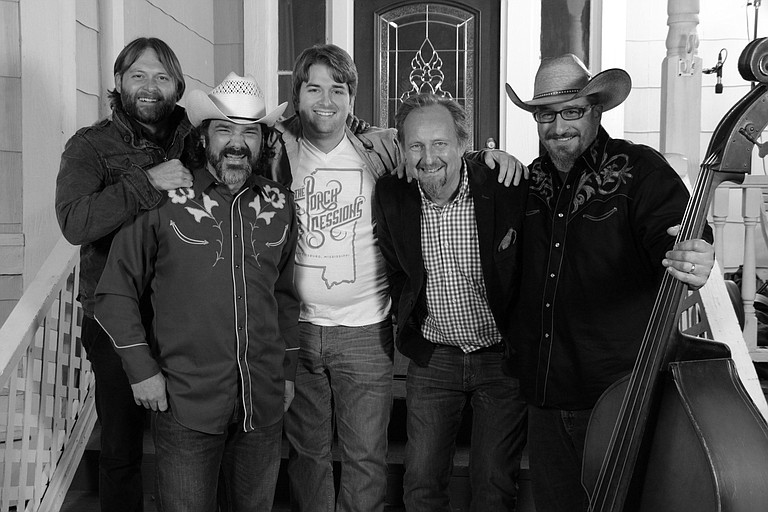 Wednesday, March 26, 2014
On the front porch of his home in Hattiesburg, Drew Young invites musicians to join him to talk about and play music. His collaborator and former student, Paul West, directs the video interview and performance series.
"The Porch Sessions started as an idea that Paul and I had," Young says. "With so much wonderful music, culture and art in Hattiesburg and Mississippi in general, we wondered why no one was exploring it—trying to bring all that talent to light."
Young moved to Hattiesburg in 2010, bringing more than 20 years of music-industry experience to his lecturer position at the University of Southern Mississippi School of Mass Communication and Journalism. Fresh from a stint in the music mecca of New Orleans where he was assistant music supervisor for the TV series, "The Big Easy," Young found in the Blues in Hattiesburg, but with a few exciting updates and derivations.
"I feel that many people buy into the unfortunate stereotypes of Mississippi," Young says. "When I got here, I was blown away by the people and by the level of talent and creativity."
As a student at USM working on his entertainment industry degree with a management emphasis, West met Young during his first semester teaching at the university.
"I enjoyed Drew's classes the most because his thinking was up-to-date and current as opposed to theory-based classes," West says. "He acknowledged how rapidly things were changing in the music industry, meaning you can't assume that what worked a week ago will work again this week."
In September 2013, Young and West premiered The Porch Sessions to explore and positively expose the state's talent. Maintaining the founders' keep-it-current philosophy, the video series is geared for social media, namely YouTube and Facebook.
"I'm from the south and have been blessed to travel a lot," Young says. "The more I've traveled, the more I've come to understand the misconceptions about the south that are propagated by media that focuses on the outlier. The real meat of the south is very creative and increasingly aware of the world."
The Porch Sessions videos, each of which are divided into three 10-minute segments, are all about representing the type of southern musicians that Young calls the "New South." While maintaining deep connections to the land and oral history, Mississippi's New South musicians play their music with a contemporary spin and perspective.
The episodes reflect a broad range of musicians and musical styles—from youthful soul and gospel harmonies to neural research-inspired blues. A primarily acoustic venue, the Porch Sessions has inspired and highlighted the versatility of its guests.
Hattiesburg-based dirty blues, roots and rock band The Deltamatics performed its first acoustic set ever for The Porch Sessions. "They loved it so much, they're releasing one of the tracks from the session," Young says. "The Porch pushed them into a situation they'd never been into before."
Swedish electronica duo The Deer Tracks had a similar experience. "Having them play acoustically was beautiful," Young says. "The Porch forced them to explore a completely different sound and approach."
In January, trio Ralph Nix and the Catfish Gospel felt at home on the porch. With rousing vocals, guitar and a 6-foot tall, hollow-body, acoustic bass named Gretchen, the trio's songs are a raucous, rowdy mash-up of blues, gospel, bluegrass and swamp.
At this point, West and Young aren't limiting themselves to a specific genre.
"We'll sit down and listen to a band and say, 'These guys sound great,' or we'll work with friends that have been playing music for years but have never gotten the recognition they deserve," West says. "Now we're getting people from all over the south emailing to say, 'Hey, we want to be on the porch.'"
The Porch Sessions videos are online at youtube.com/theMSporchsessions. Find The Porch Sessions on Facebook.