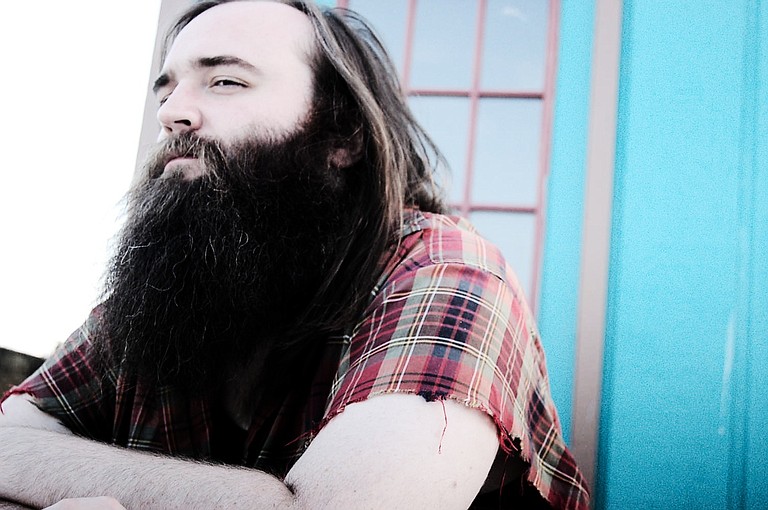 Adam Faucett
Arkansas traveler and troubadour Adam Faucett has an evocative, nearly operatic voice that is well-suited to the deep, passionate lyrics he pens.
As a solo artist, Faucett has toured extensively since 2006. He is known for his distinct finger picking on guitar and banjo, and his influences range from Neil Young to Sonic Youth. He's recorded four albums to date, and has toured all over the U.S., sharing stages with artists such as John Isbell, Chuck Ragan and Lucero.
Faucett's 2014 release on Last Chance Records, "Blind Water Finds Blind Water," is a raw-boned collection of songs, including several autobiographical accounts of growing up in the rural towns of his home state. His skills as an imaginative and free-range storyteller emerge in songs such as "Edgar Cayce" and "Killer on Staten Island."
Don't be fooled by the civil-war beard—his songs are thoughtful and contemporary with the occasional swipe of rusted straight razor.
Visit adamfaucett.com.
Mississippi Rail Company
"Moving forward via a vehicle of the past," is the mission of New Orleans-based quartet, Mississippi Rail Company. Its stripped-down piano and vocal engine steams along with a decidedly up-tempo and driving sound. Merging blues, rock 'n' roll, boogie-woogie and a dash of tent revival, Mississippi Rail Company is a youthful, energetic addition to the New Orleans music scene.
Under keyboardist and vocalist Travers Geoffray's lead, the band's live performances have earned it slots in numerous festivals, including the New Orleans Jazz and Heritage Festival, Voodoo Fest and Crawfest at Tulane University. Drummer Sam Shahin, stand-up bassist Calvin Mourin-Martin and tenor saxophonist Robin Clabby make up the rest of Mississippi Rail Company.
This year, the band is exploring music outside traditional album structure by following up its 2012 debut release, "Coal Black Train," with monthly single releases. On Mississippi Rail Company's website, listeners can enjoy the music for free or make a donation. January's "Big Bad Wolf" is a red-hot swing number that is totally worth a buck.
Visit mississippirailcompany.com.
Southern Komfort Brass Band
Southern Komfort Brass Band is a second-line band retooled and adapted for Mississippi. The New Orleans-style band consists of sousaphone player Jamie Abrams; tenor saxophonist Cedric Eubanks; trumpeters Terry Miller and Joseph Handy' trombonists Eric James and Lorenzo Gayden; trumpeter, percussionists Gerard Howard and Tim Boyd; and alternate trumpeter Corey Hannah.
Established in 2010, Southern Komfort Brass Band stirs up Delta blues with a little jazz and funk, making music to make you move. The key ingredient to the band's Jackson homebrew is the second-line-meets-bounce style complete with a steady-quick backbeat that gets people on their feet for an instant party.
When not playing clubs such as Underground 119, the band puts a second-line spin on the traditional wedding procession. It also performs at funerals, playing slow hymns at the beginning of the ceremony then picking up the tempo to celebrate the home-going.
A well-established local festival favorite, Southern Komfort Brass Band will lead a second line parade in and among Stray at Home artists and attendees in the early afternoon. Later, the band returns for a concert-style performance on the Smith Park stage. Don't forget your dancin' shoes.
Visit facebook.com/southernkomfort.
Blue Mother Tupelo
Marked by searing and soulful vocals and churning steel dobra and guitar, Blue Mother Tupelo can shape-shift from Appalachia to San Francisco Summer-of-Love to New Orleans in August—all at the drop of a beat. Blue Mother is a knockout roots duo from Hendersonville, Tenn.
Micol and Ricky Davis met at an open mic in Knoxville about 20 years ago. Since their initial meeting, the life partners have worked in tandem to create and nurture their own version of southern soul. Blue Mother Tupelo has released four studio albums to date. Its 2009 release, "Heaven and Earth" debuted at No. 2 on the Euro-Americana Chart and placed in the Top 40 on the U.S. Americana Charts.
"Our focus throughout our musical lives has been to stay true to our souls, first and foremost," the couple said in a press release, demonstrating their self-proclaimed center. Proving the soul is an expansive place to live, "Only Sunshine"—the group's latest album—features several songs that were co-written with trusted friends and fellow musicians.
Visit bluemothertupelo.com.
Marc Scibilia
Young-blood Marc Scibilia is a singer-songwriter from Buffalo, N.Y., who has taken up residence on the Eastern side of the tracks in Nashville. A bona fide dreamboat, the nouveau folk singer grew up in a family of musicians. As an unabashed follower of the Americana bard, Scibilia says Bob Dylan's "Oh Mercy" may be his favorite record of all time.
Scibilia began playing music at an early age. Starting out on drums and classical piano, he picked up the guitar as a teenager. Scibilia relocated to Tennessee shortly after graduating from high school. He signed with Sony/ATV Music Publishing in 2010 and has released three albums. Scibilia has performed with Dave Barnes and Derek Webb. He has opened for John Oates of Hall & Oates and, most recently, Butch Walker, who recorded and produced Scibilia's upcoming album in Walker's Nashville home studio.
Scibilia's blues-tinged and soulful number "How Bad We Need Each Other" brought him national attention after being featured on MTV's "Celebrity Rehab with Dr. Drew" and the Fox Television series, "Bones."
Visit marcscibilia.com.