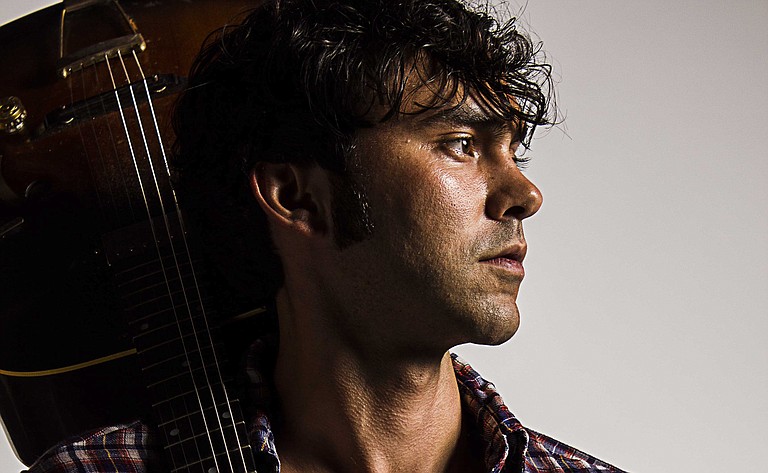 A haunted sense of humor permeates the name and music of Shakey Graves. Singer, songwriter and actor Alejandro Rose-Garcia gives life to Shakey Graves, which walks the thin line between being a throwback in time and a pitch forward in the evolution of Americana folk and blues.
Working the rambling-man aesthetic of vocals, electric hollow-body guitar and a hard-shell suitcase re-tooled as a kick drum, Rose-Garcia pays homage to his forerunners with some innovations. His dynamic, unpredictable vocals shift from croon to growl to yodel, all accompanied by guitar and drum with full stops, delays and time changes to create familiarity.
Rose-Garcia, 26, is tall and lean with swarthy good looks that contradict the expectation that he's a street musician or a train-hopping hobo. Fans will recognize the young man from his role in "Spy Kids 3-D: Game Over" and in the second season of "Friday Night Lights." Just as Rose-Garcia is not the the dangerous, ill-intentioned characters he has portrayed in film and television, he is also not Shakey Graves.
"I took the name to keep my personality in and out at the same time," Rose-Garcia says. "I would rather people be interested in the music then find out more about me after."
Rose-Garcia created the moniker Shakey Graves in 2008, right around the time he decided to put his acting career on the backburner to focus on performing music.
"With any serious artistic endeavor, you need to put all your attention in one place unless they overlap easily," Rose-Garcia says. "If I was still trying to juggle both careers, I wouldn't be able to work this hard on music or acting."
By 2011, the work began to payoff. Shakey Graves played at South by Southwest Music Conference and Festival and did his first tour with folk duo Shovels and Ropes. He's been touring consistently for the past year.
Though on hold for right now, Rose-Garcia's acting expertise brings a noticeable depth to Shakey Graves. Watching him perform is engaging and a little unnerving when the song seems to take over.
"I'm not sure Shakey has definite boundaries. If I take the cowboy hat off, I don't lose magical powers," Rose-Garcia says. "It's inspiration. I think when I get a hold of a really good song—it was found or maybe given to me—Shakey Graves is like my connection."
Given the neo anti-folk trend, it's no stretch to imagine other young musicians tuning in and making connections, channeling music from the past. All they have to do is update the style and make it their own.
"I meet people making music that doesn't make any sense," Rose-Garcia says. "Maybe it's just a product of the time we live in and the bizarre saturation and access to different music. It feels like people are learning faster."
His debut album in 2011, "Roll the Bones," is a rarefied collection of songs that are Shakey Graves incarnate. The opening track, "Unlucky Skin," is a bone yard song, ripe with double entendre and worth a close listen. A follow-up album is due later this year.
Always bent on defying expectation, Rose-Garcia makes it clear that he's not trying to replicate old music or put on an old-timey show.
"Sometimes people show up and say: 'Hey, you're not a hobo. You're not a train-riding tramp.' No, I ride in a van with a picture of Beyonce on my dashboard," he says, laughing. "I've worked hard. I certainly want to make music that I've come to honestly."
Shakey Graves performs at 8:30 p.m. May 16 at Duling Hall (622 Duling Ave.). The Tontons and Good Graeff also perform. Doors open at 7:30 p.m. Admission is $10 in advance and $12 at the door. All ages are welcome, but those under 21 must pay a $3 surcharge. To download Shakey Graves' "Roll the Bones" and leave a donation, visit shakeygraves.com. For concert tickets, visit ardenland.com.