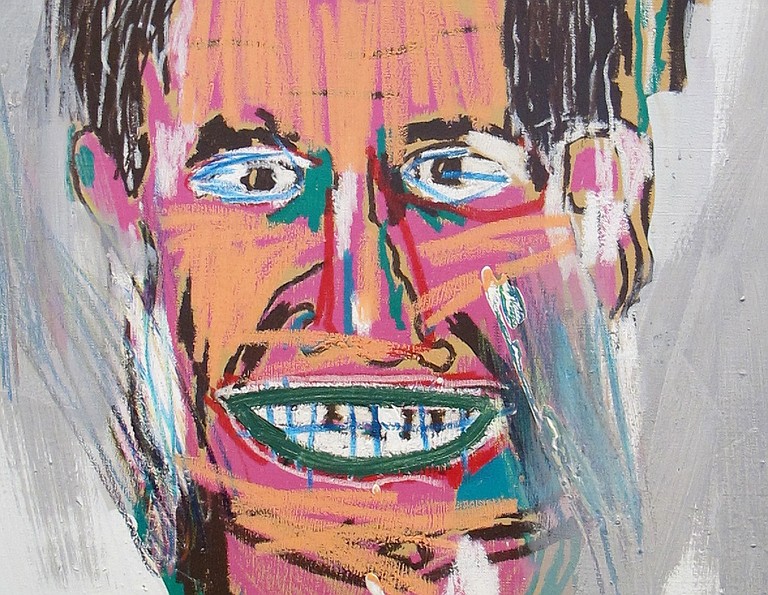 Wednesday, November 19, 2014
A painting is probably by Jean-Michel Basquiat if a single figure or a large head dominates a painting's canvas and is surrounded by smaller drawings of body parts and other objects in quirky but accurate line drawings, pieces of language and riotous blasts of color spread into cartoon flatness.
Basquiat was born in Brooklyn, N.Y., in 1960. From an early age, his mother took him to New York City museums and encouraged him to appreciate art, to draw and study anatomy. In the late 1970s, while he was still in high school, he began his career as a graffiti artist, spray painting epigrams on lower Manhattan buildings. The graffiti messaging and his tag—SAMO—caught the attention of purveyors and promoters of the city's vibrant street art. In the early '80s, he brought the street indoors, switched from walls to canvas and began his rise to art stardom.
Both books and film have documented the artist's story. Painter Julian Schnabel's 1996 film portrait, "Basquiat," portrayed the artist as a talented but vulnerable young man who couldn't transition from living on the street to being the first black artist to infiltrate the world of fine art.
In contrast, Basquiat plays himself in Glenn O'Brien's "Downtown 81"—a confident, humorous and irreverent young artist who seems to thrive in spite of poverty. The camera follows him as he makes his public art and tags buildings on the Lower East Side. With the same matter-of-fact delivery as his speech, he spray paints phrases such as "Origin of Cotton" and "Plush Safe He Think."
Basquiat was incredibly prolific in spite of his struggles with fame and drug addiction. He created an enormous body of work that included some 1,000 paintings and more than 1,000 drawings before his short and spectacular career ended when he died of a heroin overdose in 1988. He was 28.
"Basquiat and the Bayou" is an exhibit of 10 paintings and drawings and is part of New Orleans' "Prospect.3: Notes for Now" art festival. The show includes a number of works that reference Basquiat's relationship with the South.
The exhibit, curated by Franklin Sirmans, is one of several historical art explorations that will coalesce as central themes within the larger exhibits. The assembly of art from the Ogden's collection acts as a framework for Basquiat within the broader tradition of self-taught artists, including African, Caribbean, Native American, Latino and European influences that merge in the Creole Bayou culture. Other artists included in the biennial are expressionist Paul Gauguin, folk artist Herbert Singletary and painter Alma Thomas.
"Sirmans is an authority on Basquiat," says Prospect.3 Executive Director Brooke Davis Anderson. "Franklin has been studying Basquiat since he was in college student in the 1980s. When we invited him to be artistic director, he immediately realized this was an opportunity to bring the first exhibition of Basquiat's work to New Orleans."
Within the body of Basquiat's work, there are many direct references to the South, a clear indication that this part of the country was on his mind.
"Franklin's been thinking a lot about how Basquiat was painting the South while never really fully visiting the South," Davis says. "He was interested in coming here because he was concerned about southern racism. Basquiat (is) known to have visited a few places—Dallas, Atlanta and New Orleans—but he was thinking about the South long before he set foot in the region."
"Basquiat and the Bayou" is on display at the Ogden Museum of Southern Art (925 Camp St., New Orleans) from Oct. 25 through Jan. 25, 2015. The Ogden is also home to an extensive collection of art by folk and self-taught artists. Visit prospectneworleans.org.