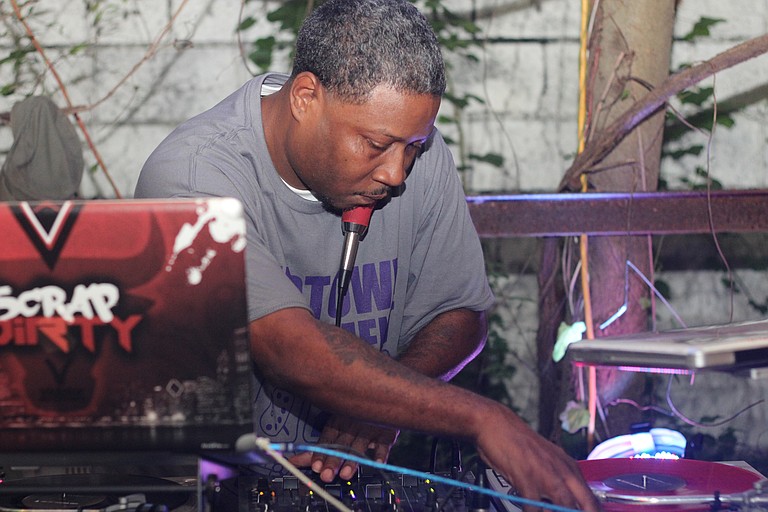 "House" has become a catchall moniker for every manner of electronic dance music, or EDM, but it didn't start that way. Named after the legendary Chicago dance club, The Warehouse, DJ-producer Frankie Knuckles spawned the movement in the early 1980s, using samples, drum machines and synthesizers to create extended dance tracks. Persistent synthesized high-hat cymbals, throbbing bass lines and 4/4 drumbeats typify generic strains of house. If you go to a dance club on a Friday night, you'll likely to hear a distant cousin of original House, minus a key ingredient: soul.
Schooled on the west side of Chicago, DJ Rob "Scrap Dirty" Nichols was one of a few college-aged DJs who brought house music to Jackson in the early '90s. He continued to create house music while he attended Jackson State University for a marketing degree. When Nichols talks about house, he makes sure to clarify what that means.
"Peoples' idea of house music is confused," Nichols says. "Most people think that EDM is house. They don't understand it's a spiritual thing. House is soulful music that has a gospel influence."
While most of his house-music comrades eventually moved from Jackson, Nichols, now 41, stuck around and made a name for himself as both a radio DJ and a music promoter.
"There were a lot of house-music DJs who played many events, but they graduated and left. I'm still here," Nichols says. "'I've been playing house on the radio for over 10 years."
In addition to his long-running show, "True Soul Cafe," which airs Sundays from noon to 3 p.m. on WRBJ 97.7, Nichols promotes underground dance and house music events, including his recent success story, The Blast Midtown, a monthly collaborative concert series that encourages growth in the house-music community.
"You see all different walks of life," he says. "Media people come to our events; we have bankers who don't want to go to a bar. We say, 'Jackson, give us your cool and diverse.'"
His newest event, the Jackson House Music Reunion, is a spinoff of The Blast, slated for Friday, Oct. 10, from noon to 8 p.m. downtown in Smith Park (250 N. West St). Nichols chose to suspend The Blast as he organized the event, which is one of the largest house shows held in Mississippi.
Performers for the evening include DJ Vance, DJ Tony Hustle, Sketch the DJ, The Nasty Sho and the concert's headliner, celebrated Chicago house DJ Gene Hunt, Nichols' mentor from high school.
"Gene is a legend in the house-music community. He used to open for Ron Hardy back in the day. He's spun under Frankie Knuckles," Nichols says with the enthusiasm of a friend and fan. "Gene and me are from the same neighborhood. I grew up watching him. I used to carry his records."
Nichols says the event has been simmering on the back-burner for a while. It took a few years of thinking and a deep, personal experience to bring it to fruition. Recently, he learned that his close friend, Antoine Young, had been diagnosed with breast cancer.
"When I found out, it made me evaluate life as a whole. That's why I started this venture," Nichols says. "My main interest is in raising awareness about breast cancer in men. I want to get the word out."
When Nichols began planning the Jackson House Music Reunion, he immediately knew which venue to use.
"Being a promoter and a DJ, I thrive off energy. I was drawn to Smith Park. I felt the energy of the space," he says. "I've been walking around that park for five years, planning this event mentally. At one point, I decided we're not going to have another Blast event until we can have one in Smith Park."
The Jackson House Music Reunion is from noon-8 p.m. at Smith Park. Entrance is free, but donations are welcome. For more information, search for the event, "Jxn House Music Reunion aka The BlastDowntown (Breast Cancer Awareness Event)," on Facebook.