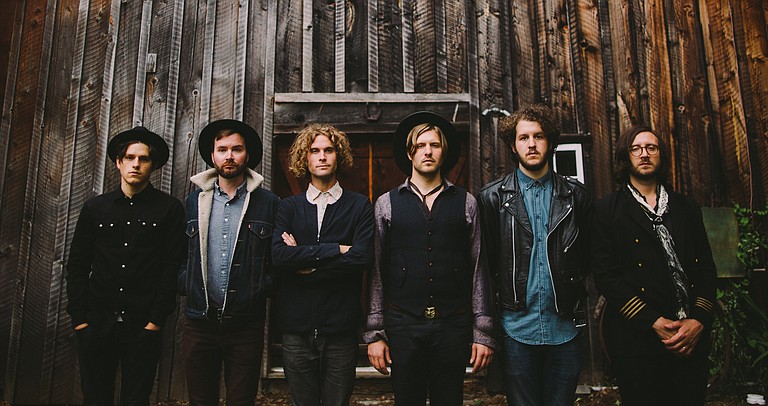 Wednesday, October 29, 2014
Forming the best possible band can be an arduous process, and it was no different for Motopony. The Seattle-based indie band, fronted by singer-songwriter Daniel Blue, has cycled through about 20 members since its inception in 2006. As of this year, Blue has worked his way through enough friends, free-agent musicians and relationship issues to arrive at the band's current lineup—a versatile and satisfying sextet that fully manifests Blue's concept of Motopony and its music.
Blue's second Motopony EP, "Idle Beauty," was released last month through record labels Fast Plastic and eOne Musics. The five-track sampler offers a kaleidoscope of songs, sounds and styles. Blues' soulful, nothing-to-lose vocals and atypical lyrics are the connective thread that binds the songs together through electronica, pop and anthem rock with psychedelic fringe and jagged folk.
"I started out as a poet and sort of marketed myself that way," he says. "I really enjoy phrasings and ideas that can have more than one meaning.
"It comes from my love of the '60s and '70s music I heard as a kid, the music my parents listened to."
Apart from Blue, the longest standing member of the band is drummer Forrest Mauvais. Lead guitarist Mike Notter, keyboardist Andrew Butler, rhythm guitarist Nate Daley and bassist Terry Mattson follow. By Blues' heartfelt account, this lineup is the best possible version of the band.
"I really believe in this crew," Blue says. "In spite of a few curve balls, they all have a great attitude, and they really like playing the music."
A full-length album, also to be titled "Idle Beauty," is due for release in spring 2015, just in time for next year's South by Southwest (SXSW) music festival. The band recently spent two weeks in the studio with Mike McCarthy, producer for Spoon, Heartless Bastards and Dead Confederate, recording a few more songs and taking the music to the next level.
"If I died tomorrow, I would walk from this planet and feel like I've done something worth all the pain and difficult times," Blue says, with a candor that comes from being totally devoted to an endeavor.
Of course, Blue has no intention of leaving the planet anytime soon, but the band will be heading off the continent for gigs in England and a two-week mini-tour in India. Blue attributes the Delhi connection to the song "Euphoria" from the band's 2011 self-titled debut.
"For some reason, that track resonates in India. I've been asked to tour there six or seven times now," Blue says. "Last year, Bacardi NH7 Weekender Festival used the song in their main advertising. This year, they asked us to come for the festival. We'll be there for 14 days. We're going to drive from Pune to Delhi, play shows on the way and see the country."
Motopony is no stranger to the American road, either. The band will see a good portion of the country this fall as it meanders toward the East Coast.
After the full-length album comes out in 2015, Blue says the band will be touring in earnest. For him, performing for audiences is what it's all about.
"I like to think of a live show as a metaphysical experience. Being able to watch a finger that is moving a coil, that is generating electricity and pushing it through a system that brings sound to your ear, is like a gift," Blue says.
Motopony performs Tuesday, Nov. 4, at 7:30 p.m. at Hal & Mal's (200 S. Commerce St., 601-948-0888). For more information, visit motoponymusic.com.