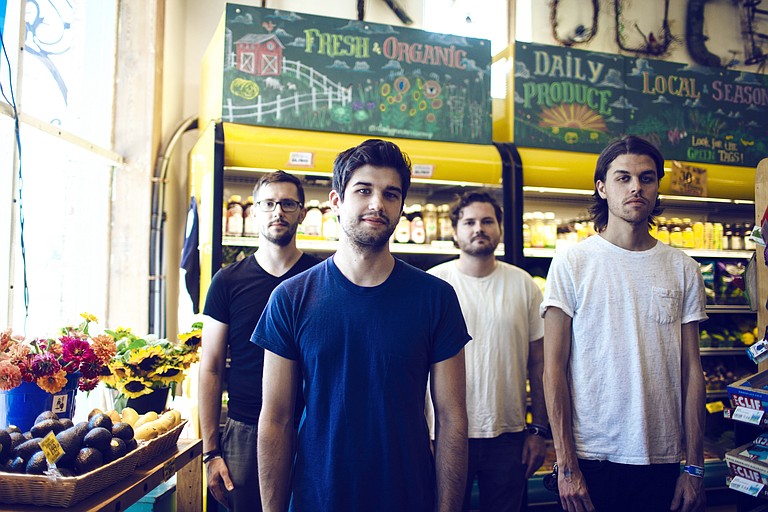 Wednesday, September 17, 2014
Athens, Ga., has incubated plenty of important musical acts in the last 40 years. With Pylon and REM as vanguards, the city proved to be especially fertile ground for stripped-down four-piece bands. Playing eccentric variations of folk, punk or pop, with front-and-center vocals and guitars, bands like Love Tractor, Futurebirds and Modern Skirts have worked the model and furthered the sound.
White Violet is an up-and-coming, indie-pop outfit from Athens that puts its four-piece structure to good use. Where many Athens bands embrace quirkier elements, White Violet's sound is made of moody, melody-based grooves. Leader and vocalist Nate Nelson says the songs he writes and the music he makes are directly attributable to living in a town that nurtures musical creativity.
"I grew up in Athens, and I give 100-percent credit to that town for being the best and coolest, most supportive place to make music," he says. "I know I wouldn't make the music I make if I hadn't lived there and if I didn't know the people I know. Athens can be supportive and very competitive—both are positive."
Nelson has been writing songs for about 10 years. He recorded his first album at age 16, and released his debut White Violet album, "Hiding, Mingling," with the help of friends and fellow musicians in 2012. For Nelson, forming a touring band and transitioning from the studio to the stage was a challenge, as White Violet couldn't find a core group of musicians.
"I think there's been about 20 members in White Violet. It's been a struggle. People kept quitting or not working out," Nelson says, though in good humor. "Eventually, I decided to just sit back and watch the evolution. Every time a new personality came in, they brought something different, and the band expanded a little more."
Through trial and error, Nelson eventually arrived at the current line-up—Vaughn Lamb on bass and vocals, Brad Morgan on guitar and Athens-born Lemuel Hayes on drums.
"I was really grateful when Lemuel and Brad joined the band," Nelson says.
"With them, I knew what White Violet should sound like. These guys are such good players. They do things that make the songs so much better than what I can do alone."
That doesn't mean that Nelson wants to hand over the reins. He wrote all the songs on the band's new album, "Stay Lost," which is scheduled for release Sept. 23. At the same time, he has come to appreciate the importance of fleshing-out songs with his current crew. "We spent three months at home, stopped touring and practiced almost every day to work-out the record together," Nelson says. "I wrote the songs, then we would learn them together—turn them into White Violet songs. With this album, I feel like I finally have the best band in the world."
White Violet makes its Jackson debut Sept. 20 at 10 p.m. The band shares the stage with Lee Bains III and the Glory Fires of Sub-Pop Records at Martin's Restaurant and Bar (214 S. State St.; 601-354-9712). The cover charge is $10.
"We're excited to playing with our great buddies. We've played with them a bunch a times," Nelson says. "It will be great to meet up with them in Jackson. "
Visit whiteviolet.net for more information and to hear new music from "Stay Lost."