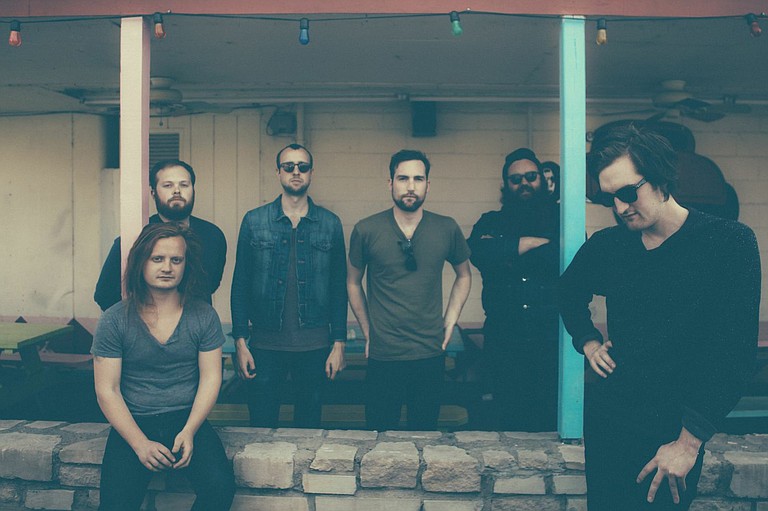 Wednesday, February 18, 2015
The Apache Relay is bringing its charmed elixir of Americana, folk and alternative-rock, swirled into the three-minute pop-song format, back to American soil. Fresh off a two-week tour of the United Kingdom with Jackson natives The Weeks, The Nashville, Tenn., sextet is hitting the road again for a series of stateside shows, including a stop at Duling Hall this week.
"We just got back from the U.K. two days ago. We're getting readjusted. It was a blast to be over there with our friends, (The Weeks). It was the first legitimate tour we've done there. We're thankful that they wanted to have us out with them," says guitarist Ben Ford, brother of The Apache Relay's frontman and singer, Michael Ford Jr.
The band formed as a folk quartet in 2009, with Michael on vocals, guitarist Mike Harris, mandolin-player Brett Moore and fiddler Kellen Wenrich. Moore and Wenrich also alternated on keys. As the music evolved, Ben joined the fray in 2011, and drummer Steve Smith joined in 2013. In that short time, The Apache Relay has opened for major acts—such as Jenny Lewis, Mumford and Sons, and Trampled by Turtles—and scored a feature in Esquire, a men's lifestyle magazine.
The Ford brothers grew up playing music together. They were in a rock band called the Hollywood Ten when Michael started writing folk songs. At the same time, Ben was trying his hand at country songs. When The Apache Relay invited Ben to play guitar, he couldn't resist the opportunity.
"There were some line-up changes, and my name got thrown in the hat," Ben Ford says. "I've always loved playing with my brother, and all the guys are great dudes. I could always go back to songwriting. I figured now's the time out there and grind rather than when I'm older."
Since The Apache Relay's self-titled record hit stores in April 2014, all the "grinding" has started to pay off. The band received national attention when NPR Music premiered the video for the album's opening track, "Katie Queen of Tennessee." The video features a 40-member youth dance company and was filmed in a single, painstakingly choreographed shot. The band is working on a music video to go along with its third single, "Good As Gold," which is set to be released this spring.
"We're mainly using road footage from the U.K. tour," Ford says. "The record will be released there in physical and digital formats this April. There's talk about going back to promote it."
In the meantime, The Apache Relay is content with being back in the states, doing end-of-week shows for the next few months, including a few with singer-songwriter and friend Andrew Combs, who Rolling Stone recently named one of its "Four Songwriters to Know in 2015." Combs releases his own new album, "All These Dreams," March 3.
The Apache Relay performs at 8 p.m. Thursday, Feb. 19, at Duling Hall (622 Duling Ave.). Tickets are $8 in advance or $10 at the door. For more information, visit theapacherelay.com.