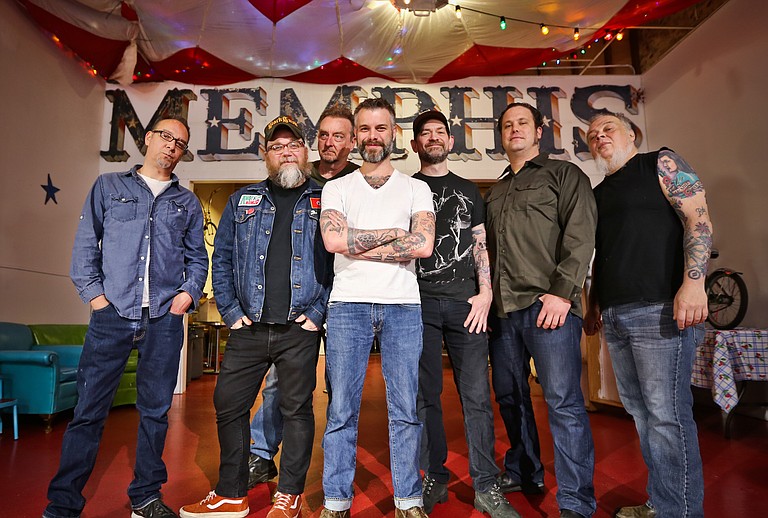 Wednesday, February 25, 2015
After 17 years of playing and staying together, the members of Lucero are family. Cranking out albums and touring hard throughout their tenure, they've diversified their sound and grown an equally diverse fan base. The band is back on the road again celebrating its 10th album, "Live from Atlanta," which hit stores in August 2014. This time out, Lucero is headed for Hal & Mal's on Friday, Feb. 27.
The Memphis-based band mates started out as punk rockers back in 1998. Guitarist Brian Venable, singer-songwriter Ben Nichols and bassist John C. Stubblefield met at hardcore punk shows. Drummer Roy Berry was only 19 when he joined.
During the band's developmental years, the four lived and played together in a rented warehouse, and toured in a van that the band paid for but Nichols bought on credit.
"There were four of us learning our instruments, trying to figure out what we were doing," Venable says. "At the time, we wanted to do a kind of Tom Waits folk-thing, so it was all sad songs and waltzes."
Lucero's music has evolved over the years. These days, it's normal for fans to categorize the band as everything from country-punk to rockabilly-soul. Keyboardist Rick Steff, saxophonist Jim Spake and trumpet-player Scott Thompson have joined the band, but the core lineup remains the same.
"We like playing music together," Venable says. "At this point, we're not just playing; music is our career. It's not like one day we can decide this isn't fun, (and say), 'Let's go back to being doctors and lawyers.' We have to make it work."
At a median age of 40-something, the players personal commitments have cut back Lucero's touring from its former 250 dates per year to a more relaxed schedule.
"Now we go out for two or three weeks at a time then come home for a while," Venable says. "I have a family. We all have houses and relationships, so we have to balance being at home and on the road."
Touring isn't the only facet of band-life that has changed. While Venable and Nichols are credited with most of the songwriting, it's more of a group effort now. On the tails of "Live from Atlanta," Lucero is writing for a new album to be recorded in April.
"I used to bring music and chord structures to Ben, and he would write the words," Venable says. "Most of the time, he has an idea for a verse or a lyric and a chord change to start with, but we're real good about letting everyone play a part."
Nichols' lyrics are about love, loss and everything in between. They're storytelling in the time-honored southern tradition. Several songs, such as "The War" and "Gray and Blue," pay tribute to Nichols' grandfather, who fought in World War II.
"We have 97 songs about women and three about his grandpa," Venable says with a chuckle. Meanwhile, Lucero's rocking, sing-along anthems, including "Tears Don't Matter Much," contribute to the band's reputation for rowdiness, but they aren't Lucero's mainstay.
"Sad songs are our bread and butter," Venable says. "... We'll stop a pretty fast show in the middle (and) bring it down with a couple slow ones. Sometimes we'll end a show with the saddest song there is."
Even with the band's many devoted fans, life in Lucero hasn't always been easy. Thankfully, the highs and lows have made the musicians closer. "We're real lucky to have grown up writing together and playing together," Venable says.