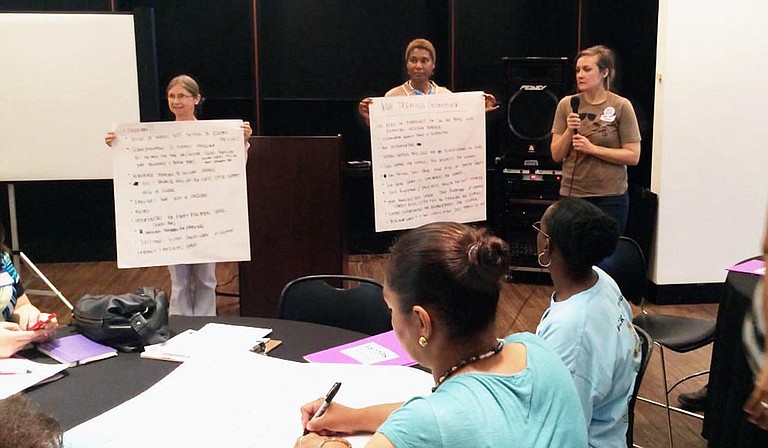 Wanaki McDuffy is a single mother who is unable to fit both school and work in her schedule. In order to pay for her education, she says she needs a full-time job—a nearly impossible task with the limited child-care voucher the state of Mississippi provides.
As officials with the newly formed Mississippi Women's Economic Security Initiative point out, child care is one part of a more complex problem facing McDuffy and women across the state.
Despite what state leaders like Gov. Phil Bryant say about how great Mississippi is for women, the coalition of female advocates, business owners and lawmakers say the state has a long way to go toward being more woman friendly, which includes strengthening support for child care and encouraging women to seek elected office.
On May 30, at the first of a series of town halls the coalition is conducting around the state, McDuffy, a pharmacy technician at a local hospital, said even though she had the same credentials as a male colleague hired around the same time she was, the man made more money. In addition, she said single moms are often pigeonholed into certain kinds of jobs, which leads to competition among women for lower-wage work.
"(Jobs) are available," McDuffy said "But there are various single moms that are trying to access a lot of the stuff that is available."
Information from the coalition shows that 76 percent of poor children under age 6 live in single-mom-headed households. Cassandra Welchlin, MWESI program director, said its initial findings highlight the plight of Mississippi's working mothers.
"We realize they need more than just child care, and we know that we need to expand what we're doing to really talk about economic security. We know that child care really makes a difference in moving women from welfare to work," Welchlin said.
On May 27, members and supporters of the initiative officially unveiled plans to create an economic-security policy agenda that includes child care, housing, transportation and equal pay for equal work.
"All working parents need child care, but child care is expensive," said Carol Burnett, executive director of the Mississippi Low Income Child Care Initiative.
Information from the Mississippi Economic Policy Institute highlights the disparity, finding in 2012 that men made an average wage of $14.92 an hour, with women only earning $12.65 per hour, or 84.79 percent of every dollar men make.
Furthermore, the women's security group cites data showing that women head 67 percent of Mississippi households, with 45 percent of those families living below the federal poverty line.
"These moms need to be able to earn enough money from the work they do to support their families," Welchlin said.
The coalition also wants to see more women in policymaking roles. Its members hope that the recommendations it collects from the town halls will translate into a legislative agenda as well. Ercilla Hendrix, the co-founder of a political-consulting firm in Jackson, said many women are qualified for political positions but are sometimes reluctant to run for office.
"Women need to get involved in politics in community organization's actions, but I also feel like they don't get enough support," Hendrix said.
Rep. Alyce Clarke, D-Jackson, and state Sen. Deborah Dawkins, D-Pass Christian, want to reactivate the Women's Legislative Caucus.
"Can you think of anyone better to tell you what women need other than women?" Clarke said. In addition to electing women, Clarke, one of the caucus' founders, urges voters to elect officials that support the progression of women's issues.
Sen. Dawkins agreed, warning, "We have a lot of women serving in the state Capitol who are not progressive, that do not represent women's issues when they vote."
Welchlin says the initiative is capable of creating real change.
"We want women to come out to these town talks so that we can hear from them, hear their solutions. But another critical part of this is building the political will so that they will go register to vote and vote for elected officials for their values," she said. "As a result of these town talks, we are raising this movement together and raising women to be politically active."